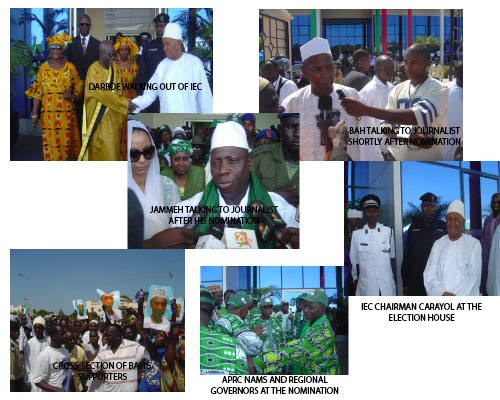 The Independent Electoral Commission, IEC, yesterday received and accepted the nomination of three presidential candidates for the forthcoming presidential election slated for 24th November.
Incumbent President Yahya Jammeh of the ruling Alliance for Patriotic Reorientation and Construction (APRC) party, Hamat Bah, an independent candidate under the banner of the newly-formed United Front of four opposition parties and Lawyer Ousainou Darboe of the main opposition United Democratic Party, UDP, will be seeking the mandate of Gambians.
The nomination, held at Election House in Kanifing with lots of fanfare, will be followed by the 11-day official campaign period, which is scheduled to start tomorrow Saturday 12th November and end on Tuesday 22nd November 2011.
Below we have some of the statements made by the presidential candidates, after their nomination:
Ousainou Darboe
We are all one and the same, though we belong to different political parties. We all want this country to be the envy of everyone in this world. We all aim to achieve the same objective, but our approaches in achieving those objectives are different. We have always respected the laws of this country, and at the end of every political gathering, I attend, I end it by appealing to my supporters to be law-abiding to the extent that some Gambians, who claim to have some interest in the affairs of this country, brand me as a coward. I will remain a coward so long as I am operating within the confines of the law.
But one thing we want to appeal, Mr. Chairman, is to ensure that you take charge of the activities of all political parties during this 11-days campaign period. In 2006, I was held hostage for four hours, and that was done in violation of the campaign itinerary. I was kept in Abuko for four hours waiting for somebody to clear the road for me, and that was a strategy to interfere with my campaign.
I was to ask you Mr. Chairman, that this time, if such things happen, what you are advising will not work because we will not allow any political party or any candidate whatever his/her status to interfere with our campaign programmes.
It was also done in 2001, to an extent that my last day rally I could not hold it. We want to be law-abiding, and we will be law-abiding, but we will not allow anybody to interfere with the accepted programme.
We expect that the security will be very neutral. We are citizens of this country, and we need the protection of all institutions of this country. We want equal treatment.
We recently had a well-attended rally in Bakau with a huge turnout, but unfortunately, GRTS showed empty seats showing people that our party has nobody, but then the ballot will at the end of the day show the reality.
We all thought that GRTS started a good job, but then the way they performed it was not up to our satisfaction. We don't want that to happen during the campaign period.
I want to also assure you Mr. Chairman, of the cooperation of the United Democratic Party, that we will make your job easy; we will not engage in anything that will detract you from performing your duties, and I wish The Gambia and everyone a peaceful election.
Let me also appeal to all Gambians to come out on 24th November 2011, take time, stand in the queues and vote. This is a very crucial moment, and is the determination of the future for our country, and nobody should be left behind.
The Darboe administration will be different from the Jammeh administration. We will ensure that social justice prevails in this country; we will also ensure that the rule of law is observed, not in theory but in practice. We are also going to make sure that journalists find this country as heaven. We all know that Gambia is a hell for journalists, and you can all attest to that.
The living condition is also very poor. You have 60% of Gambians who are below the poverty level and 65% who are food poor. This means that 65% of Gambians don't have enough food to eat.
All of President Jammeh's call for Gambians to go back to the land is all go back to his land in Kanilai. We will make sure that this stops.
Hamat Bah
I appreciate the fact that we have successfully submitted my nomination papers, and must also remind this body that my candidature is supported by four registered political parties who have endorsed my candidature, and they will all be campaigning for my victory, no doubt about that.
These parties are the NRP, PDOIS, GPDP and NADD and they will all be campaigning for me. I must assure you, Mr. Chairman, that we will do everything possible to have a peaceful election. As I always say, this country belongs to all of us. It is rather sad, and unfortunate, that in the international media, they are projecting our election in a way that is very sad.
Not even having supported us, taking note of some countries which are small like The Gambia have been given over US10 million, this country has virtually been given nothing.
We are trying everything by ourselves, and we will do everything possible to prove to the world that we are able to conduct an election that will be accepted by all parties at the end of the day.
We are committed to that, and we have no doubt that we have differences from time to time, but as you are aware, during discussions, we are able to resolve some of these issues.
We also appreciate, Mr. Chairman, the fact that your doors are open. You cannot have 100% democracy anywhere in the world.
Comparative democracy is the order of the world; we have to copy the good things from one country to another, and replicate it here. They also have copied something good about our democracy, and people must accept this.
Yes, there are shortcomings in the system, and that is why candidates must measure their utterances, because some of their utterances have given some of the international press the yardstick to measure the elections, and those statements are regrettable; we must all be careful what statements we issue.
I think you, as the Chairman, will get and enjoy our support because The Gambia is for all of us. We will struggle, we will do our very best, and I hope that the message you have given to the chiefs and regional Governors will be adhered to, because they are the problem in this country.
If there is any problem that we will have in this country, in terms of violence and any conflict, it will emanate from the chiefs and Governors, and that is very unfortunate.
I want to remind every Gambian, whether a security man or whatever you are, that all the conflicts we have in Africa are a by-product of failed elections or bad elections, and bad elections come when the ground is not level.
When people have no hope in the system, they resort to violence, and the election system must give people hope for the possibility of changing a government.
We should all work towards that, and every citizen must have in his mind that he/she can destroy this country by not doing what he/she was supposed to do.
People must have confidence in the system, because in as much as the IEC tries its best, if the people upcountry or somewhere keep on arresting our supporters, detaining them unlawfully, we will not sit idly by and watch them do that. Let them be warned, and they should be advised.
We will not surrender our victory or our rights to anyone. We will stand firm to defend our rights, and go by the rule of law; nothing more nothing less.
We are not asking for favours; let's just follow the rule of law.
President Yahya Jammeh
I don't expect anything less than 90% but provided that everybody goes out to vote. You people have the tendency to say that APRC has already won so no need for me to go and vote. Whether you are going to stay there up to 6 pm, it is just one day.
Some people can say that I am tired of waiting on the queue. If you don't vote for me, don't say that I am for the APRC because if you stay at home and say that we have won, we have not won, go and vote.
This time around, it is electronic; we will know those who vote, and those who do not vote, because we have paid a lot of money for the registration.
I am confident of 90% victory, because I have my trust in the Almighty Allah.
So I will not be pessimistic; I am very optimistic, because I put my faith in the supreme nature of the Almighty Allah.
Candidates Bio-data
President Jammeh, 46, has won three consecutive past elections. In 1996, he polled 220,011 (55.7%); in 2001 polled 242,302 votes (52.96%); and, in 2006, swept the polls, winning 67.33% of the total votes cast.
He had vowed not to engage in any political campaigning in the coming polls. However, we learned through official that Jammeh will be embarking on a nation-wide campaign tour, whivch starts from Saturday 12 to Tuesday 22 November.
Meanwhile, he has promised that the election would be free and fair.
Jammeh attended Gambia High School in Banjul and passed the GCE 'O' Level Exams.
He joined the former Gambia National Gendarmerie Corps in 1984, and was among the national gendarmerie corps incorporated into the Gambia Army in 1991, after the institution was abolished.
He did military training in the USA from September 1993 to January 1994. After leading a coup in July 1994, and few weeks before the 1996 elections, he retired from the army as colonel to join the political race. Since that same year he has received several awards up to now.
This year's election, he said, is between progress and retrogression, not between him and the opposition, stressing that those who want progress will vote for him.
Ousainou Darboe, 63 years old, will be running for the fourth time as a presidential candidate. Born 8th August 1948, Darboe attended Saint Augustine's High School and Gambia High School before proceeding to study law in Nigeria, where he obtained his first law degree.
He obtained his Masters degree in law in Ottawa, Canada, and did an attachment at the Ghana Ministry of Justice. In the Gambia, he worked at the Attorney General's Chambers as state counsel and legal draftsman, from 1973 to 1980.
From 1980 to date he has been a private legal practitioner heading a private law firm. He joined politics in 1996, the year in which he first ran for presidential elections, and obtained 141,387 votes (35.84%) and in 2001 he got 149,448 votes (32.67%). In the last presidential election held in September 2006, Darboe who joined forces with Hamat Bah's NRP party polled 104, 808 (26.69%) of the total votes cast.
Darboe has long said his priority is to improve the well-being of the farmers by buying their groundnuts promptly.
Hamat Bah, 51, will be seeking the presidency for the third time, but this time around as an independent candidate under the banner of the newly-formed United Front comprising four opposition parties namely, the NRP, GPDP, NADD and PDOIS.
Born in the village of Bantanto Sare Oldi in the Central River Region, Bah who lost to Jammeh in the 1996 and 2001 presidential elections first launched his National Reconciliation Party on 9th September 1996, when he started politics.
In the 1996 elections, Bah pooled 21, 769 (5.52%) of the total votes cast while in the 2001, he scored 35, 671 (7.8%) of the total votes cast.
A trained teacher and hotelier from the Gambia College and Acor Academy in Paris, France, respectively, Bah also holds a diploma in management.
He has also said that part of his priorities if elected will be to address the problem of housing for civil servants, youth employment, utilization of the River Gambia, restoring freedom of the press, open up the wavelength to enable Gambians discuss and debate on issues freely, restore the tourism sector to what it was before, and ensuring food self sufficiency, among others.
Meanwhile, according to our reporters who were at the Election House, all the three presidential aspirants who were accompanied by their party supporters, spoke with optimism that they will sweep the polls come 24th November.
Election Process
In The Gambia, voters use marbles to vote rather than ballot papers, inserting a marble into the drum representing their candidate.
Elections are on the basis of a simple majority, and voting is by secret ballot.
After presenting their voters cards bearing their photographs, names and fingerprints for scrutiny, voters are given each one marble.
Each candidate has a separate sealed drum, usually identified by his or her photograph, party initials and symbols.
Candidates are allowed to have their agents at polling stations and later to witness the transportation and counting of the votes in Banjul and other divisional administrative centres.
A total number 796,929 Gambians have registered to vote in elections, showing a massive shift from the 2006 election figures which stood at 670, 336 voters.
According to the election regulations, each presidential candidate should pay a deposit of D10, 000 and must have 5000 signatories of which 200 has to come from each of the seven administrative regions.
Presidential candidates must be between 30 to 65 years at the time of seeking the presidency. He or she must also declare his or her assets, and must have paid all his taxes. They must also have completed high school.
Elections for the office of the president are held every five years.
Read Other Articles In Article (Archive)