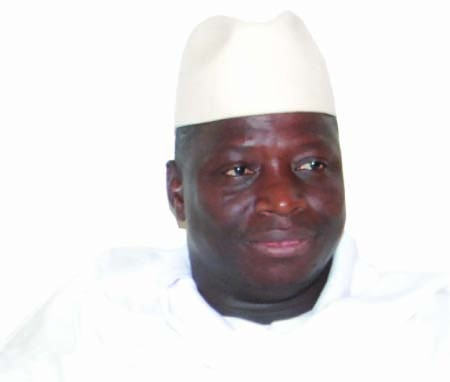 Continuing his nationwide meet-the-people tour, President Yahya Jammeh Tuesday expressed his concern about the failure of some youths, especially in the Fonis, West Coast Region, to engage in farming activities.
President Jammeh, who was addressing thousands of people at a meeting in the village of Mayork, Foni Bondali district, said youths of the Fonis have abandoned their villages and settled in the Kombos, leaving their lands to become thick forests.
According to the Gambian leader, it was very rare to see such thick forests in Foni. "Before, when you come to Mayork, you can see Kanwally village, but now we cannot see it because of the thick bush because of the lack of farming," he said, adding that lands in the Fonis are now lying fallow, because the youths have left the Fonis for the Kombos.
He told the meeting that "today, if you see a well-packed shop in Foni, it belongs to a foreigner while the youths of Foni are sitting down idle. You cannot do farming without sweating," Jammeh told the youths.
"Where are the youths of this area? What are you doing? You excitingly beat your chest to say my father's compound. Is that a source of pride? You should think of what your child will boast of. If you see any good house in Foni, if you find out, you will realise that the owner came from somewhere else to settle in Foni. Even a qualified radio mechanic in Foni is a migrant," he added.
Jammeh stated that his message to Gambians, since 1994, has been that people should engage in gainful and self-employed businesses.
The Gambian leader further called on the youths to use the land, on which they you used to grow cannabis, to grow Findi.
"Have you ever seen someone who grows cannabis and have lunch from it? If you don't change your attitude in Foni, I foresee a very sad situation, because if you refuse to work, strangers will come and acquire all the wealth, build homes and end up renting houses to you," he further stated.
President Jammeh also noted that, "what is even more painful is that some youths will marry a wife, leave her with their parents and they will not send even soap, neither a bag of rice to them.
"Even the monkey in the bush, if you keep on begging him, he will one day tell you, I don't have," Jammeh continued.
"You have to work hard, help your parents, and Allah will reward you, because even those that you visit in the Kombos are now coming down here to look for farm land to farm," he told the youths.
The chief of Foni Bondali district, Bakary Dembo Badjie, commended President Jammeh for providing the people of his district with a tractor and other farming implements. Chief Badjie said no opposition party in the country will penetrate the ruling APRC stronghold, noting that the people of his district speak with one voice and nothing else.
However, he appealed to the Gambian leader to look into the situation of veterinary services in Foni Bondali district.
Siaka Bojang, APRC constituency chairman for Foni Bondali, Aja Meta Korita, Aja Wudeh Badjie, Hamadi Sowe all commended President Jammeh for the promises he has fulfilled in their district, since coming to power.
Ousman Sonko, minister of the Interior, who is also the APRC liaison officer for West Coast Region, deplored the menace of drug trafficking, noting that in the past, Niumi was well-known for cannabis and other related crimes, but now, Foni is the centre for drug trafficking.
According to him, the majority of those serving jail sentences at Mile 2 prisons are youths, because of their involvement in drug trafficking.
Other speakers at the Mayork meeting included the Governor of West Coast Region, Alhagie Lamin Sanneh, and Hon. Mattar Kujabi, NAM for the area.
A similar meeting was held in Bwiam on the same day, and the tour has been temporarily suspended due to the 22nd July celebration on Friday.
It is expected to continue on Monday.
Read Other Articles In Article (Archive)