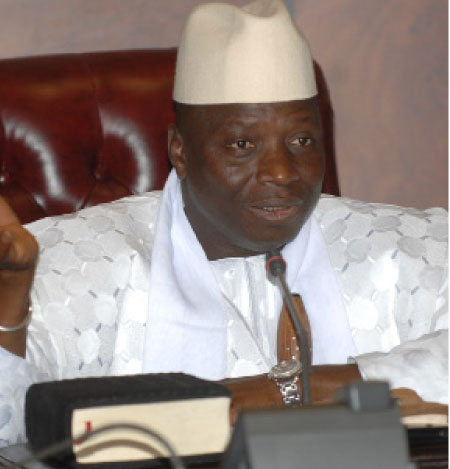 President Yahya Jammeh has again called on Gambians to make the endeavour to develop The Gambia a 'responsibility and a divine duty' for all, stressing that in today's world, one can never count on dependence.
President Jammeh was speaking Thursday morning as he presided over the swearing-in ceremony for the newly-appointed Ministers of Regional Administration, Lands and Traditional Rulers and Information and Communication Infrastructure, Momodou Aki Bayo and Nana Grey-Johnson respectively.
He told cabinet that as Gambians, we should never expect our efforts to be complementary to the efforts of the benevolent people around the world who want to help us developed, noting that if that trend happens, then we will never be developed because, as he put it, we will become more dependent.
'I want you to remember that it is only Gambians with the help of good people around the world that can bring about a Gambia that we want; that we will be proud of; that would be beneficial to our children and give them dignity wherever they go,' he stated.
While welcoming the newly-appointed ministers to the cabinet, President Jammeh underscored the need for team work for the government to succeed.
However, he added, what is more important than team work is working as a family.
'For me a family atmosphere is better than team work, because in a family atmosphere, you realize the fact that working together is indispensable. When you call it team work, one has the imperative to either stick to the team work, but you can never leave your family, abandon your family or turn against them, and that is why I prefer family to team work,' Jammeh noted.
He commended the new ministers for their commitment, patriotism and, more importantly, the faith they have in the Almighty Allah.
'I always tell people that if you have no faith in the Almighty Allah, no matter how well educated you are, no matter how successful you are, one day you are bound to fail,' he said.
In President Jammeh's view, if one has faith in the Almighty Allah, you are bound to be honest, because only people with little faith in Almighty Allah would be the dishonest people.
He stated that many a time, well meaning Gambians, patriotic and honest Gambians are being led astray by ill-meaning Gambians, who, he added, are not even patriotic. 
'I don't think anybody can claim to be a professor of good governance if you rule a country or a continent for 400 years, and only leave that country with one high school; I don't think you can call yourself a lecturer or a professor of good governance after ruling a country for four hundred years, you are wealthier than the continent, which live in chronic poverty,' Jammeh said in reference to 400 years of British colonial rule in The Gambia.
'So imagine the massive exploitation for four hundred years, when they could not find natural resources to take, they decided to take the young people of Africa into slavery.
'Today they are the same people that come and say good governance and gender equality; Africans have always shown gender equality because that is part of our tradition and that is part of our beliefs; nothing is done in an indigenous African society without the participation and endorsement of  the women,' he remarked.
Other ministers including Dr Njogu L Bah, Francis Liti Mboge, Tenengba Jaiteh, and Fatou Lamin Faye, all welcomed the newly-appointed ministers to the cabinet and assured them of their fullest support at all times.
Shortly after taking the oath of office, secrecy and allegiance, ministers Bayo and Grey-Johnson thanked President Jammeh for the trust and confidence he has in them, and assured him of their loyalty and support at all times.
Read Other Articles In Article (Archive)