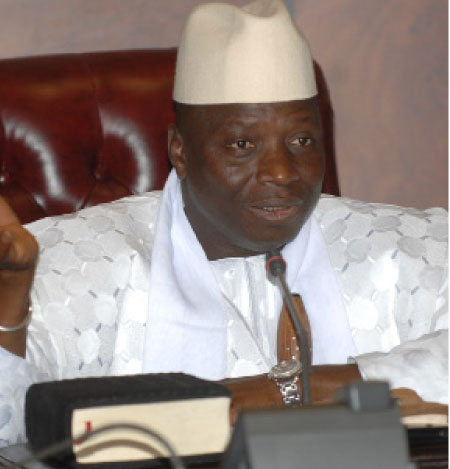 President Yahya Jammeh celebrated the seven anniversary of his treatment of HIV/AIDS in the country on Friday, with the announcement that diseases like liver cancer, pancreatic cancer and breast cancer have been successfully treated.
Friday was exactly seven years ago when President Jammeh, in January 2007, first announced that he had successfully developed a herbal concoction capable of not only treating, but also curing both HIV and AIDS.
Since then, according to reports, President Jammeh and his team enrolled and treated hundreds of patients.
''I can say with confidence and I stand to be challenged, that liver cancer, pancreatic cancer and breast cancer, we have successfully treated; because what we do is we try, for every disease, seven patients and if five out of the seven are treated, then we try again because my objective is always 100 per cent, but if I have six out of seven, I consider it a definitive 'yes', we can treat it,'' Jammeh said at the celebrations marking the seventh anniversary, held in Kanilai on Friday, which was also broadcast on GRTS.
''I made it very clear that at every anniversary, there will be a new addition to the treatment. Today, I think I will feel more sorry with somebody with cancer than somebody with HIV/AIDS because all the types of HIV/AIDS can be treated in the shortest time possible,'' he stated.
Today, according to Jammeh, what is also interesting is that before what made the AIDS treatment more expensive was that for most of the herbs, seven were from outside and two were from The Gambia.
''Today we have only four indigenous plants that are even more effective than when we started the treatment; so HIV/AIDS is not a problem,'' he added.
Stressing that there is no disease that does not have a cure, Jammeh said his objective is not to treat common diseases.
''I put myself to the challenge that my objective in life is to make whatever people say is impossible possible by the grace of the Almighty Allah,'' he said.
''I am not interested in malaria, because there are cures for it. I'm interested in diseases that everybody say that there is no cure for it. What we should say, as people with knowledge in the treatment of the human body, is that I don't know the cure; but whatever diseases is on earth, there is a cure for it and the Almighty Allah knows. There is no disease that does not have a cure. We can say we don't know the cure yet, but don't say there is no cure for it,'' he stated.
Jammeh also commended all those philanthropists who have assisted in one way or the other his treatment program, noting that without their assistance, it would not have been possible to treat this large number of people.
''When we treat a 1000 patients, I provide for their feeding and their accommodation. Any number of patients that we have to admit for any treatment, we do not include government funds. So all those people that have helped in one way or the other, I want to thank you on behalf of the patients and my team,'' he noted.
The Vice President and Minister of Women's Affairs, Aja Dr Isatou Njie-Saidy, said there is living evidence of President Jammeh's intervention in this area.
''One of the most areas of concern to any woman, anywhere in the world including women of The Gambia, is the inability to have a child in a marital home.
''As a result of your intervention in this area (infertility treatment), you brought many smiles, a lot of lives, in many homes, and there is evidence and living proof of that today,'' she stated.
Read Other Articles In Article (Archive)