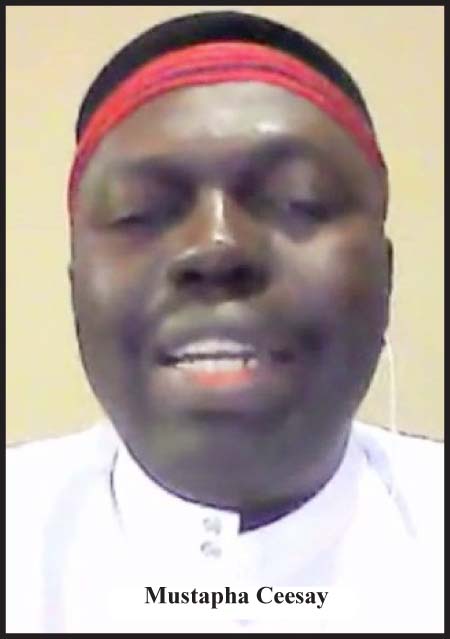 Mustapha Ceesay, a former Gambia Police Force (GPF) staff and an alleged victim of Gambia's former President Yahya Jammeh's 2009 witch-hunting exercise, Tuesday testified before the TRRC and disclosed that on 14th January 2009, he was accused, alongsidewith 40 others of being wizardsby witch doctors from Guinea Conakry.

Testifying via Skype, Mr Ceesay said those were forbidden in Islam and he was not happy about it. He added that a brown goat and cock were killed at the Police headquarters in Banjul and they were asked togo close and swear allegiance to Mr Jammeh.
He said identifying him as a wizard was an allegation and he will never forgive Yahya Jammeh for attributingsuch in his life.
Mr Ceesay, who joined the police on February 1st 2004, stated that on Tuesday 13 January,2009, he left his office early because he had a land problem to investigate."I return the next day at around 7:30am. Inspector Yusupha Saine told me that witch doctors came to the office and took some names. He said the IGP request for everyone to come down and attend the morning parade because the witch hunters will be present."
He continued that as they were there in the parade, they were told to come back at 10am because the witch hunters would come to screen everyone and for all to swear allegiance to Jammeh. He said the IGP said whoeverfailedto comply will be dismissed from the force.
"The parade ground was surrounded by four to five state guard soldiers, green boys and girls, five drummers and five men who were dressed in complete red and their leader had a cattle horn, cattle tail, a big plate and mirrors. I saw Solo Bojang standing with the witch hunters and lawyer Edu Gomez standing with civilians."
He said as the delegates sang and drummed, the leader of the witch doctors would run for a while and point someone as a witch or wizard with his cattle tail.
Mr Ceesay said the leader of the witch doctors wore a T. Shirt with Guinea written on it and he get to know that they were from Guinea Conakry through his research. He further disclosed that he was informed that Jammeh asked them to conduct the witch hunting exercise after his aunty and two of his personal close guards, Musa Jammeh and Tumbul Tamba died.
He said then IGP Ensa Badjie told them that one woman had confessed that she knocked her head to the soldier truck, which resulted in the death of the soldiers throughan accident.
"Ensa Badjie told us that Jammeh said if anyone is pointed as a witch or wizard, that person will have to drink something. He said if anyone drinks and isa witch or wizard, the person will die and if he/she is not, will not die. He also said that every officer will swear allegiance to Jammeh and the executive order was if anyone fail to do as ordered, will be dismissed."
Mr Ceesay said the green boys and girls were drumming and singing in Jola and the witch doctors started running and pointing people one after the other. He said he was standing with Mariama Gassama and he told her that the exercisewasSatanic and he was reciting the Qur'an and all of a sudden,the witch doctor passed him and later came back and pointed him to join the rest.
The former police officer explained that he asked the witch doctor whether he meant him, and he muted and said, yes.He added that he comported himself and waited for other things to be said, while adding that about 40 people were identified and Ken Mendy was the one writing the names of the pointed individuals.
After pointing people, Mr Ceesay said they slaughtered their goat and cock and started asking them to swear allegiance to Mr Jammeh one after the other."At that time, Kumba Jatta was in his office, and he was brought to the parade with the Jujus he had. It was all knowledge that Kumba had those Jujus but he was the most peaceful man at the police. He was dragged to the parade, embarrassed and humiliated."
He said F.R.I. Jammeh was asked to slaughter the red goat and IGP Ensa Badjie was called to slaughter the red cock."The blood was buried and the animals were taken away. I was told by the IGP to swear allegiance but I insisted and went to the back and took two photos of the occasion."
He said they were told to go with them to Kotu to be washed but he didn't and he was charged with Inspector Yahya Darboe for disobedience to order because they did not want to worship idols.
He indicated that he was informed that similar activities of the witch doctors were held at Gamtel, Fire Service, Army, NIA and Prison. He also explained that he was demoted and transferred to Fatoto."I was told that the July 22 boys, who were at Baba Jobe's compound tortured captured women. They poured water on them and beat them. The day I saw Kumba Jatta, he was humiliated and as a result, he got sick and rarely goes out of his office because he lacked energy and was in physical pain."
He said as a result of the witch hunting in different places, lot of people fledinto the bush where they stayed for weeks and some had to go to Casamance.
He said one of his friend'sfather was admitted at the Banjul hospital because of drinking the water given by the witch doctors, adding that his friend's grandmother was sick as a result of the water and the green boys raped his sister.
"Jammeh carries out that activity as cover up because he was involved with South American drug dealers. He wanted to show them that the 'Kubbeh Jarra' given to the alleged witches and wizards was more effective than cocaine."
Mr Ceesay said he left the police in October 2009 and worked with the American Embassy, and later left the country because one of Jammeh's brothers came to Kembujeh and knocked down his father's house, in which his granny died with a 24 year-old boy Omar Jammeh at the spot.
He also stated that Jammeh's convoy had killed many Gambians, as a result of chasing biscuit that he used to be throwing along the highway.
Read Other Articles In Article (Archive)