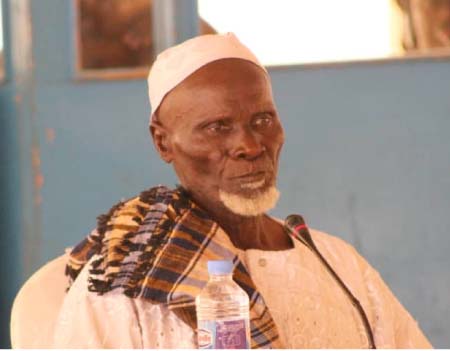 On Wednesday, Alhagie Masanneh Camara, who suffered as a result of the infamous witch hunting exercise initiated by former president Yahya Jammeh in 2009, testified before the TRRC, disclosing that two buses and a truck were filled with alleged witches and wizards from his village.

Camara, a resident of Foni Jarol was born in 1941 at the village of Sintet. He narrated that the first witch hunt exercise at their village was led by Tambajiro. He recalled that Tambajiro was with people drumming and going around the village. He added that Tambajiro used to stop at places and identify that something was buried and he would just pick something from the ground, but they (victims) didn't know what that was.
"He gathered people at the hospital and put something in the fire and smoke started to come out. Anybody who inhales and coughs, he or she would be taken by the soldiers."
He said there were many soldiers with Tambajiro but the only person he could recognise was Solo Bojang.
Explaining the 2009 witch hunt exercise headed by Fulas, he testified that they were dressed in red, were accompanied by soldiers and were from Niaja.
"It was later that I heard women running and saying that people are coming to give them concoction to drink. It was then I called my family to sit around me. They came to the compound and surrounded everywhere and later told me that I am not a wizard. They said if it was only me, they would have not come to Sintet."
However, the witness further indicated that they captured many people in Sintet and took them to Kanilai. He added that anyone who at that time failed to comply with the witch hunter would beaten by the soldiers.
"Before they took the abductees, they slaughtered a red goat. Under normal circumstance, if one is to slaughter a goat, he/she faces the east but in this case, they faced the west. They buried the blood in our village and took the body away."
He further recalled that during the incident, many people who came to their village to commiserate with family of a man who died in their village were also captured by the witch hunters.
"I was not captured but I told Solo Bojang that I will follow my people. I went there the following day but I couldn't cry as I saw many people in bad condition."
He added that he was able to get the chance to speak to Jammeh through Solo Bojang, and told him to release his people but he was asked to discuss it with the people who captured them.
"One Sansang was mistaken with Sarasang to be given a concoction that led to his death," he further testified.
He said the victims in his village were seriously affected, indicating that they could not cultivate their rice fields due to the concoction they took. "About 13 people in our village died as a result of the witch hunting incident."
The witness said he had been supporting Jammeh but when he heard him on the radio, saying "Mandinkas are unbelievers and he would kill them all, that was the time I stopped following him."
Read Other Articles In Article (Archive)