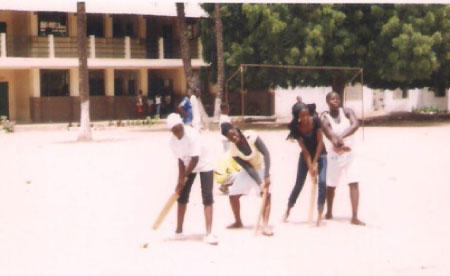 A two-day introductory cricket course was conducted for 15 teachers by the Gambia Cricket Association for schools in Brikama.
The course took place on 13 and 14 March 2012 at the Jamisa Lower Basic School in Brikama with an opening ceremony by the Divisional Cricket Sports Coordinator Mr Sherriff Jallow.
The content of the course looked into match and measurement, cricket terminology, umpiring and ways of dismissal in cricket matches.
After the course, the president and course coordinator, Johnny Gomez, challenged the participants and asked them not to allow the money spent on the course to be wasted.
They should all be committed as promised and start a cricket club in their various schools, getting the entire school involved and also PTA, were they are sure to get sponsors and volunteers.
The president also reminded them about the loan given to the Brikama Cricket Association Region for a fund-raising activity, which should start their leagues.
He also told the participants they will be given certificates after six months following an assessment of their performance and involvement and their school will registered in the league, for both male and female.
Meanwhile, St Mary's and Campama are the finalists of the Lower Basic Cricket League after sailing pass opponents at the July 22nd Square in Banjul last week.
The date of the final, according to officials, will be communicated at a later date.
Read Other Articles In Article (Archive)