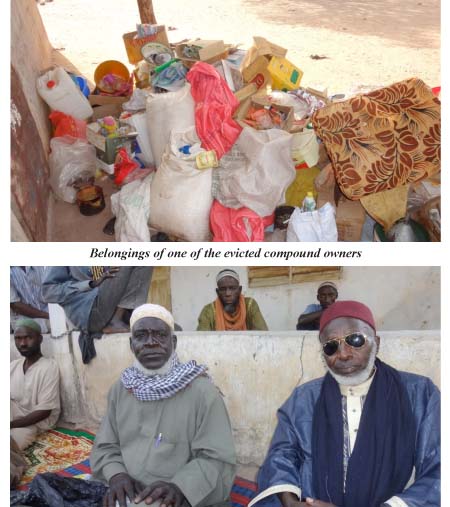 Bubacarr Bah and Abdoulie Jallow, residents of Jambanjelly Nema Fulakunda, have complained of their sudden eviction from their respective compounds last Wednesday.
The duo lamented that they were evicted from their compounds and their properties thrown out of the houses and new padlocks were put on the houses.
They said it was one Ba-Saikou Sanneh, escorted by some paramilitaries, who came to their compounds and told them to leave and that the order was from the Sheriff Division.
Bubacarr Bah explained that the incident happened around 10am to 11am on Wednesday while he was at Rumba village to visit a friend.
It was at Rumba that he received a phone call that one Ba-Saikou Sanneh with some paramilitaries came to his compound and removed all his belongings from the houses and locked the houses.
He said when he came back and asked what was the issue he was told that it was an order from the Sheriff Division of the high court.Bah said he was surprised that the order was from the court when he was not summoned to court by anybody.
"I have never received a document that I am sued to court," he said.
Bah noted that in the process of removing his properties out of the houses, most of his belongings were destroyed.Also his D3,000 got missing and his wife's D20,000 is also missing.
He said he had reported the matter to the office of the governor of West Coast Region but was told to write a report on the incident.
According to Mr Bah, he bought the compound and had been living there for the past 23 years.
"All this while, I have never been summoned to court or found wanting because I always pay all my rates and taxes," he said, while appealing to the relevant authorities to look into the matter in earnest.
Abdoulie Jallow, another purported victim, also expressed similar sentiments adding that his wife's money also got missing in the process.
"This is very sad; after residing in a compound for 20 years someone just came to remove you and your family without any prior notification," he said.
He called for quick intervention because their properties are all outside and risk been stolen at night.
Alagie Samba Jallow, the village alkalo, confirmed that Bubacarr Bah and Abdoulie Jallow were sent out of their compounds.
He said he received information that one Ba-Saikou Sanneh came to these people's compounds with some paramilitaries, threw their properties out of the houses and padlock the houses with new padlocks.
"I was surprised because as the Alkalo of the village, I have never been informed or notified about it prior to the event," village chief said. 
Read Other Articles In Article (Archive)