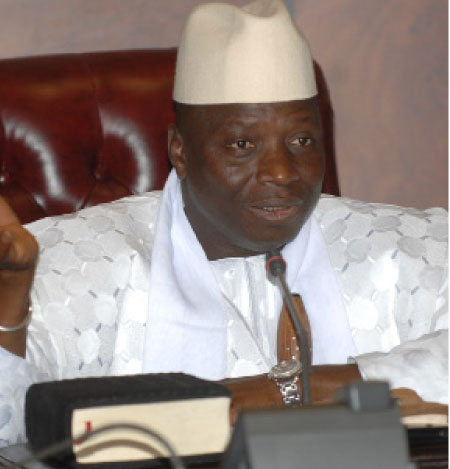 President Yahya Jammeh has accused Senegal of harbouring and aiding Gambian dissidents plotting to destabilize his regime, and he has vowed not to get involved in helping to resolve the Casamance crisis until Senegal changes its attitude towards The Gambia.
Speaking in an interview with the private Senegalese television station TFM on Friday, President Jammeh said, due to the proximity of the two countries and the porous borders, it is against international law for Senegal to grant political asylum to Gambians accused of attempting to overthrow his government.
"Do they take me to be a fool? How can they expect me to help them end the Casamance rebellion when they are harbouring my enemies in Senegal?" he asked.
He recalled that with the support of Sant Egidio, a Catholic community based in Rome, The Gambia contributed to the release in December 2012 on Gambian territory, of Senegalese soldiers who were detained for a year by Salif Sadio, the most radical of the rebel leaders of the Movement of the Democratic Forces of Casamance, MFDC.
"I'm not a hypocrite. Relations with Senegal are not good," President Jammeh was quoted as saying, reproaching Senegal for giving asylum to Gambian dissidents.
"If Senegal changed its policy towards The Gambia, I will get involved in the solution to the (Casamance) crisis. If not, I will not do it," he said.
Jammeh added that the Senegalese authorities should not expect him to help them resolve the Casamance crisis, while they continue to harbour and encourage Gambian dissidents to insult him, and even threaten to take his life.
On the late Kukoi Samba Sanyang, President Jammeh accused Senegal of allowing him to use their territory to destabilize The Gambia, "even to the point of granting him Senegalese citizenship." 
He said he had even warned Kukoi that any attempt to destabilize his (Jammeh's) regime will cost him his life.
Therefore, Jammeh said, "Senegal's conduct is unacceptable", and that it is "not in line with the principles of democracy".
President Jammeh then went on to claim that while there are 750,000 Senegalese citizens living in various parts of The Gambia, and engaged in all types of business without being harassed by anyone, the Senegalese authorities are hostile to the Gambian business community.
He accused them of harassing Gambian business people who used Senegalese roads to transport goods to Mali, noting that while Senegalese citizens dominate business in all the markets in The Gambia, there is not a single Gambian doing business vendor in Sandaga Market in Dakar, for instance.
Meanwhile, there has been no reaction from the Senegalese authorities, up to the time of going to press.
Read Other Articles In Article (Archive)