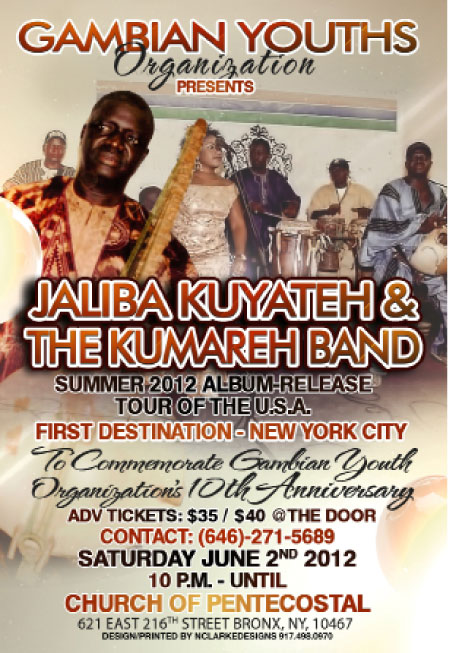 Famous Gambian kora maestro Jaliba Kuyateh is set for yet another tour of the United States of America, where he is expected to thrill Gambians thanks to the efforts of the New York-based Gambian Youth Organization (GYO).
According to information from GYO media and advertising department, Jaliba and his band will land at the JFK Airport later this month to kick-start a trans-Atlantic album launching tour of the United States and the United Kingdom to promote their much anticipated new album "TUPI KEJANG". Jaliba and the Kumarehs have had a busy schedule in recent months.
After ending an extensive European tour in November, which took them to Sweden, Norway, Denmark, France and Germany, the dynamic group continued with multiple stints in the West African countries of Guinea Bissau and Senegal along with over a dozen appearances in their home country The Gambia.
"Tupi Kejang" is a culmination of spectacular performances during these tours, and the first live rendition of this groundbreaking album will be performed in various major American cities and England.
A legendary musician with over 30 years of experience, the group's leader, Jaliba Kuyateh, is a maverick in the SeneGambian folk music industry as evident by his distinct vocal skills, songwriting abilities and instrumental superiority. He is accredited, and rightly so, for bringing the traditional Kora music into the 21st Century and creating what is now recognised industry-wide as "Kora Pop".
Industry experts have described Jaliba's unique style as a flawless combination of instrumental precision with a smooth and distinctly expressive voice coupled with a manding-lyrical insight that has allowed him to develop a repertoire ranging from educative, to poetic, romantic and socially conscious songs.
In contemporary Gambian music, Jaliba is not only the Jaliba most celebrated, but also the only artist whose appeal cuts across generational lines.
The "Tupe-Kejang" Album Launching Tour begins in New York City on 2 June with the Gambian Youth Organization's 10th Anniversary Celebrations. Thereafter, Jaliba and the Kumareh Band will continue the launching of "Tupe-Kejang" in Minneapolis, Minnesota (on 8 June with the Gambian Association in Minnesota); Madison, Wisconsin (on 15 June with the Wisconsin SeneGambia Association); Detroit, Michigan (on 16 June with the Gambian Association of Michigan).
Jaliba and the Kumarehs will then embark on the second leg of their trans-Atlantic tour to the UK (with Yaram Arts).
Upon returning to the US, the tour will continue with appearances in Seattle, Washington (on 6 July, with the Seattle Gambian Association); Atlanta, Georgia (on 8 July with AGERA); Washington D.C. (on 13 July with the Gambia American Association in Maryland).
The Summer 2012 Tour will conclude with a grand farewell performance in New York City before the group returns to the Smiling Coast of Africa.
Whether a Jaliba fan or a lover of Gambian culture, the Summer 2012 Tour provides a rare opportunity to experience this prolific West African music group at their finest. This is why it must be said, from Hawaii to Alaska, Maine to Florida; from Africa to Europe; from the Americas to Asia, The moment is here. Jaliba Kuyateh and the Kumarehs are coming to America!!
Read Other Articles In Article (Archive)