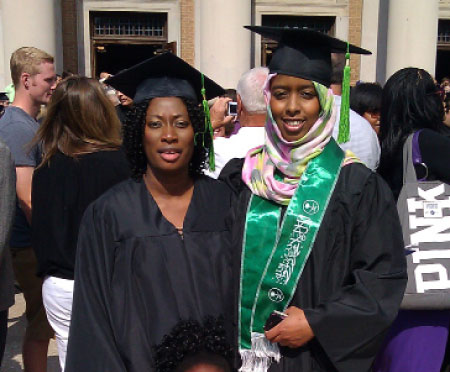 Two Gambian girls, who were among 4,800 students of the University of Kansas in Lawrence Kansas, USA, have graduated with BSc degrees with flying colours.
Musu Kebba Conateh and her younger sister Fatou Ngoneh Conateh are the daughters of journalist Swaebou Conateh and Sukai Conateh of Dippakunda in the Kanifing Municipality.
Each was awarded a Bachelor of Science degree at the same graduation ceremony held at the college stadium.
Ngoneh qualified as a civil engineer (BSc) at the School of Engineering and Environmental Studies, while Musu came out with BSc in Respiratory Therapy from the School of Health professionals at Kansas university medical center in Kansas City, Kansas.
Both girls naturally found the occasion memorable and they expressed thanks to their parents for the sacrifice which led to their success.
Musu, now married to Abdoulie Jawara, brought along their four-year-old daughter, Fatou Jawara.
Ngoneh particularly thanked President Yahya Jammeh, for assisting with funds through the President's Office to help pay her tuition fees. Without such invaluable assistance, she said, it would have been difficult for her to complete her programme of studies so soon. 
The University of Kansas with a student population of 48,000 is the biggest institution of higher education in the state of Kansas.
It is also the alma mater of the girl's father Swaebou Conateh, who in 1968 graduated from there with a BSc degree in journalism under the African Scholarship Programme of American Universities (ASPAU).
It was on 13 May 2012 when Musu and Ngoneh joined other graduants who went up the hill at the university to participate in the tradition of walking down the hill through the Campanille, the huge bell tower, to collect their degrees from the university vice chancellor. 
The atmosphere was filled with music by the university marching band, which typically played the traditional song of the university, crimson and blue, while students intermittently shouted their favourite rock-chalk jay-hawk chant at sports competitions.
Bells also pealed from the top of the Campanille towers as part of the celebration ceremony for the day.
Read Other Articles In Article (Archive)