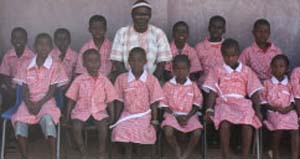 Students of Morgan Clark Lower Basic School in Jajari, North Bank Region, have been advised to maintain self-respect, respect one another and, most importantly, show respect to their elders and teachers.
Kawusu D. Marong, a native of Jajari now resident in the United Kingdom, in a message he sent to the project manager of the school, Bakary Jammeh, on the occasion of the school's first anniversary, urged the pupils of the school to be respectful to authority and elders at all times.
In his message, Mr. Marong said: "If this rules are obeyed in the school, there will be less problems and the school will be easily run in peace and love."
He called on the parents to work together in peace and harmony with the teachers, for the security and smooth running of the school, citing the English proverb "charity begins at home".
He told the parents to give their children good home training so there will be no problems at the school, as the teachers are always there to help the students move forward.
 "This will make them surely achieve their main goal of going to school," he added.
Mr. Marong thanked Mr. Phil Morgan (proprietor of the school), his family and the Morgan Clark Foundation for building "this wonderful learning institution" in his village for the benefit of everyone in Jajari and the surrounding villages.
Paying tribute to the project manager, Bakary Jammeh, for his positive contribution towards the development of the school, and to all those who have contributed voluntarily to the project, Mr Marong called on Gambians to emulate the example of Mr. Jammeh.
The anniversary was also blessed with recitation of the Holy Quran as well as with prayers for the development and progress of the school.
As part of the celebration, 13 outstanding students, who excelled during the first year in monthly assessments carried out by the teachers, were awarded with gifts. The beneficiaries were the students who took the 1st, 2nd and 3rd positions in all grades or levels at the school.
Similarly, apart from students in the nursery, 273 students who are now registered in the upper-grade primary school were given uniforms provided by Morgan Clark Foundation.
The management of the school is now under the Gambia government, only six months after its inauguration as a nursery school, then called The Phil Nursery School.
Government has hence provided the services of the headmaster and two teachers.
The Alkalo of Jajari, Demba Marong, called on the villagers, especially mothers and members of the school committee, to uphold the principles of Phil Morgan and the Morgan Clark Foundation.
He also advised them to make sure their children do their homework, study at home and carry out other school assignments.
Alkalo Marong also thanked Morgan Clark Foundation and the project manager, Bakary Jammeh, for his foresight in taking the project to his village.
Read Other Articles In Article (Archive)