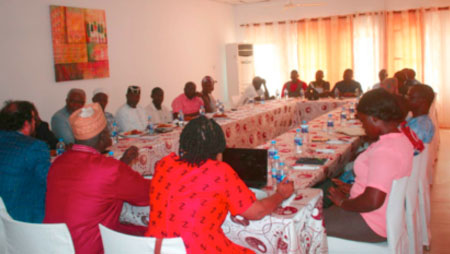 The Institute of Travel and Tourism of The Gambia (ITToG), in collaboration with Leeds Bucket University and West African Tours, last Tuesday converged at the Gambia Tourism and Hospitality Institute to deliberate on responsible tourism with focus on river cruising, in particular cruise ship.

The one-day forum brought together different tourism stakeholders, including officials of Gambia Tourism Board, tour operators, tour guides, members of the parliamentary committee on tourism and craft vendors.
Jeoffrie Devioto elaborated on the potentials of cruise tourism; one sector of tourism that is still untapped in The Gambia. He disclosed that Destination Gambia has the ability to culturally expose and explain herself to a large population as cruise ships always bring a lot of people in a short time.
He noted that within the short time, tourists onboard will like to see different things, especially different aspects of the culture which can create many ambassadors for the country. He added that the majority of the cruiser passengers coming to The Gambia are well travelled and they have been to many countries all over the world.
"Therefore, within a short time they would like to know what life is like in the country before and now, how they are similar to the visiting country, know about the economy, education and have interest to know about the historical past that makes Gambia unique around the coastal in Africa."
Devioto made it clear that the future of cruise tourism in The Gambia involves diversification of products which require Gambia Tourism Board and ground tour operators to work together and create new experiences.
Dr Adama Bah, Chairman of ITToG highlighted on the importance and economic opportunities of having cruise ships in the country.
He said the opportunity cruise ships can bring will benefit the country depending on how the tourists are linked to the local economy to enable them spend. "When they are here they buy food and drink which should be local but if all they are buying are coming from abroad then opportunity and profit will not be maximized."
He said to develop upcountry tourism, there is a need to develop the infrastructure to attract investors.
"Government needs to develop necessary infrastructure such as power, water jetties (for up rivers tourism), and a good road network. Once these are available, investors will start coming because they will see the opportunities." Dr Bah stated.
Angela Andrew, Director of West African Tour, Lamin Bojang of GTBoard and members of the parliamentary committee on tourism all made significant remarks at the forum while Tejan Nyang, tourism special adviser to the Parliamentary Committee on Tourism thanked the organiser for the initiative.
Read Other Articles In Article (Archive)