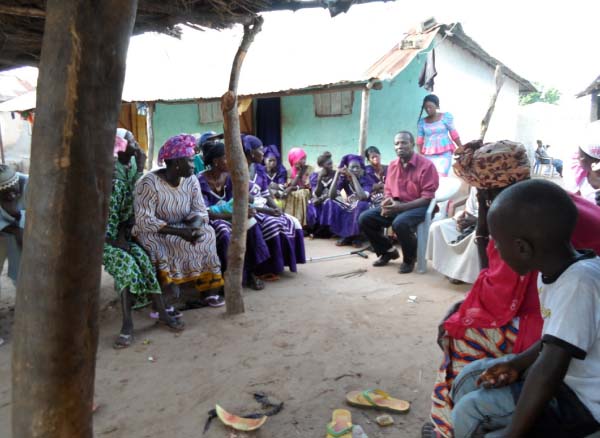 Kombo Foni Forestry Association (KOMFFORA) and the Association for the Support of Grassroots Communities, in collaboration with Jamwel Women's Development Organisation based at Sarebitaye in Kabada in the southern Senegalese region of Cassamance, recently held a community development forum on women's empowerment.
The event which drew participants from all the 20 communities aimed at empowering women with skills development, would enable them to contribute toward national development.
Amadou Sey, a representative of the Alkalo of that area, said the plight of women needs to be addressed by all citizens, adding that women's role in development is important taking into account the difficulties they encounter daily, especially during pregnancy, among others.
According to him, women spend long hours on domestic chores, adding that introducing them into ventures like gardening activities would go a long way toward helping them to generate income.
Mr Sey appeal for a hospital in the cross-border village.
"It is our duty to help women and my doors are open and ready to offer a helping hand, especially in providing a plot of land for gardening,'' he said.
Seek Janko, president of KOMFFORA, who doubles as the vice president of All Gambia Forestry Platform, said the consumption of vegetables are important for the health of pregnant women, adding that lack of good nutrition is a major health problem, and causes child mortality and diseases.
Saloum Sheriff Janko, president of Association for the Support of Grassroots Communities, said his organization is a non-profit organization working to help and provide services and support to local groups in rural or urban households, as well as individuals in rural communities.
The training session, he added, was designed to empower women and is the aim of their organization's programmes.
This would be a continuing process in their work countrywide to ensure that women are empowered for development work, in order to complement government efforts, he continued.
The grassroots organization would work withdevelopment partners in helping women to prevent gender-based violence, and also to focus on providing women with access to economic opportunities, to ensure their equal participation in public life.
He said they also have youth empowerment programmes to discourage "the back way" to Europe.
"We will take a variety of forms, focusing on children's education, women's self-help programmes, raising public awareness, and economic issues," he said.
Since some of the women groups have specific aims, they also intend to provide empathic, supportive women's groups in communities, he went on.
Many groups organized around a particular issue, like gardening, soap making, and bee-Keeping in their self-reliance initiatives.
The organizations share a commitment to making practical improvements in the lives of women and children, he said.
Awa Jobe, a native of Allow Kunda Naira, said gardening activities and learning skills would greatly help minimize illegal activities in the forest, and earned them better income.
Read Other Articles In Article (Archive)