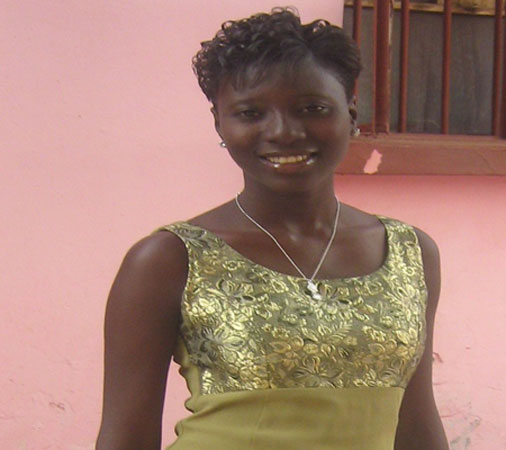 Ngasireh Irene Touray is a determined young Gambian lady who is bent on making a change in our society. As a result she has written a book entitled 'Teenage Life Crisis'. In her book, she craftily brought out the excitement, disappointment and anxiousness of teenage life, and she gave possible solutions to the problems faced by the characters in the stories in the book.
Dear readers, today I am very honoured to bring her to you.
The Point: Welcome to the She She She
Ngasireh: Thank you very much Isatou.
The Point: Ngasireh introduce yourself please to the readers.
Ngasireh: I am Ngasireh Irene Touray, I am twenty-one years old. I live with my maternal grandparents. I have four sisters, but I am the only child of my mother who is currently in the U.K doing her Masters in Education.
The Point: Which schools did you attend during your primary to high school?
Ngasireh: I did my nursery, primary and secondary education at the Rev. J.C Faye Memorial School.
The Point: Are you currently furthering your education or writing on another book?
Ngasireh: Yes, I am working on my second book and am attending the Trust Communications Training Institute, pursuing an advanced diploma course in Information Technology.
The Point: What inspired you to write a book especially that on Teenage life?
Ngasireh: The idea just came naturally one day when I was going to school. Writing is a gift from God I realised when I was fifteen. We all know that growing up is a difficult task. And grown ups do always misunderstand teenagers. Peer pressure, teenage pregnancy are one of the problems teenagers face. This book does not only talk about the problems of teenage life, but possible solutions to these problems. The book is generally to educate and enlighten the young people and grown ups as well especially parents.
The Point: What is your reaction to the fact that the Gambia is not a reading community?
Ngasireh: It is really frustrating when one writes his or her book and no one reads or buys it. Sometimes you want to write, but you are drawn back by their lack of enthusiasm. The saddest part of it all is that the younger generation doesn't make reading a habit. What I have observed is that they only read the books they are asked to read at school. Gambians should help fellow Gambian writers by buying and reading their novels. It is gravely disappointing when I go to a bookshop to see how my books are going, but I am usually told that the book is slowly or not going at all.
We just have to have a change of attitude and there will be room for improvement.
The Point: What are usually the hustles and obstruction one faces when writing and publishing a book?
Ngasireh: The encouragement is usually not there. People just say it is okay to write, but there is no money in it. The second thing is that of financial constraints. People just don't help. Stakeholders are not concerned and not ready to help and that usually discourages one's spirit. It takes a lot of perseverance to see a book's success. Some weak ones just lose hope after being discouraged. Thus, the spirit and talent die a natural death.
The Point: What are your future plans?
Ngasireh: I want to be a renowned writer, a graduate in Mass Communications and an accomplished actress. What I want to do in the future is build a platform called the NgasiConcept, where young people's talent would be show cast, where they would also build on their dreams, sensitise them on negative attitudes, actualise their dreams and be assertive and confident in themselves. This would go a long way in boosting their talents and helping them generally. What I want to add is that the NgasiConcept would generally help them to discover their talents, because the Gambia needs young people with innovative ideas to see to the modern world.
The Point: Any advice to the upcoming writers and teenager as a whole?
Ngasireh: They should believe in themselves and actually take writing seriously if they believe in their writing talent. They would actually educate their fellow young people and in turn inspire them to discover their own talents. They should also live a responsible life and pursue the career they will want and know that they want to. Like the President says 'the sky is the limit'.
The Point: Any last word?
Ngasireh: Yes, I am very thankful to the President of the Republic, Professor Dr. Alhagie Yahya Jammeh, because he was one of the reasons why this book is a success today.
This goes to show his commitment and interest to the youth of the Gambia. I also thank my parents for encouraging me.
The Point: Thank you very much Ngasireh, it was a pleasure talking with you.
Ngasireh: Thank you too, it was an honour.
Read Other Articles In Article (Archive)