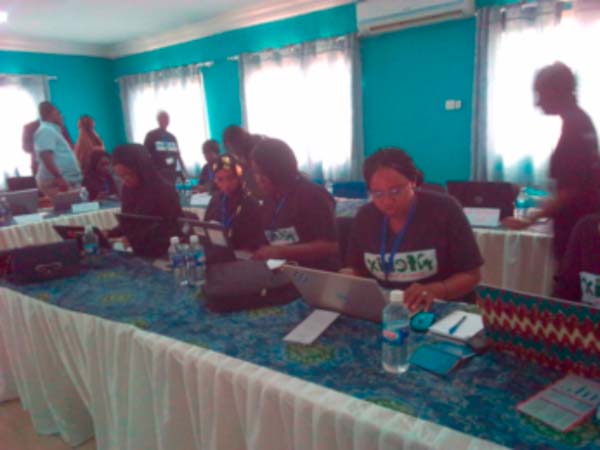 Internet Society Gambia Chapter (ISOC) in collaboration with African Network Operators Group(AFNOG)convened a five-day intensive training for 30 women drawn from The Gambia and Senegal in technology at Khamsy conference hall.

The participants were drawn fromthe ministry of Energy, MOBSE, ministry of Finance, ministry of Agriculture, National Assembly, ministry of Higher Education, MOICE, Foreign Affairs, Gamtel, Unique FM, GIA, MRC, PURA, GPA,SSHFC, Trust Bank and The Point Newspaper.
Speaking at the training, Nancy Dose, coordinator of African Network Operators Group (AFNOG), said AFNOG was a forum for technical coordination and cooperation among African Internet Service providers and Network engineers from the regions universities, research institutions and industry.
She said the objectives was to build a community of engineers to help each other operating internet infrastructure in Africa, and on the Global Internet as well as promote the discussion of issues relating to implementation of new networks that require community cooperation.
According to her, the internet is gaining a stronger level of engineer foothold in Africa, thanks to the technical collaboration and educational programmes established through the African Network Operators Group.
She further stated that theorganisation was founded in 1999, and the inaugural AFNO workshop and conference took place in Cape Town, South Africa and has since been held in various countries.
She mentioned some of their achievements, which included but not limited to building a community of African Network operators who are helping themselves with challenges in Africa and globally.
They have held 17 workshops in 17 different African countries covering 4 sub- regions, and these have beenvery successful and have an active mailing list to collate annual events with other ICT related events.
For his part, Alagie Ceesay, the secretary general ofInternet Society Gambia chapter, said this was a global organization of internet providers and was a nonprofit organisation.
He indicated that their role was to develop internet standards.
He said the internet could address their goals which include getting people online, connecting to unconnected, developing policy and cyber security.
He stated that the programme was an African Engineers led, adding that they are collaborating with AFNOG for capacity building programmes.
He advised the participants to take the training very seriously as the importance attached to it could not be over emphasized.
He also thanked their sponsors and collaborators for making the conference a success in The Gambia.
Read Other Articles In Article (Archive)