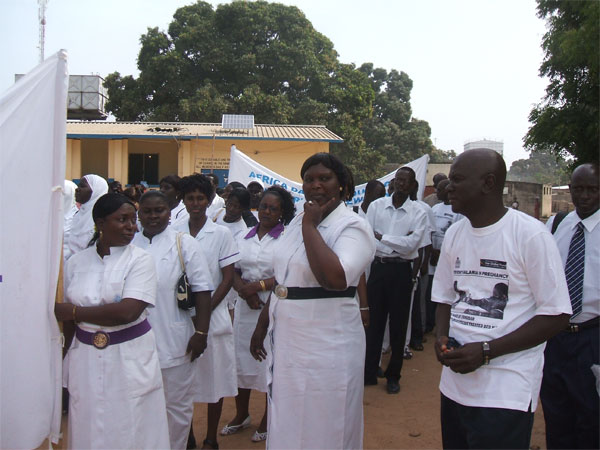 No fewer that 81 nurses and midwives from both the state and private health sectors in the Western Region last Saturday converged in their large numbers to celebrate International Nurses and Midwives Day at the Gambia College, Brikama Campus.
The event, funded by UNFPA, was equally celebrated by all the Regional Health Teams across the country.
Deputising for the Interim President of the Nursing Association, Mrs Ramou Cole Ceesay, Mr Cherno Camara Principal Nursing Officer at Jammeh Foundation for Peace, said "The International Day of the Midwives is an occasion for every midwife, to think about the others in the profession, to make new contacts within and outside midwifery and widen the knowledge of what midwives do for the world."
He noted that the aim of the day was to celebrate midwifery and also to bring awareness of the importance of midwives' work to as many people as possible.
He indicated that this year, the special focus of the celebration is on "Healthy Families: the key to the future."
He said: "Midwives help to build healthy families. Everywhere across the world, midwives work to build better health and stronger structures within families and communities," and the International Nurses Day theme for 2008 is: "Delivering Quality, Serving Communities: Nurses Leading Primary Health Care."
He maintained that midwifery care for women and their babies is an investment that promotes healthy growth and well being for the present and future generations of our countries.
According to him, today the African continent is challenged by paucity of midwives, especially in the rural areas among others to effectively reduce maternal, new born, and child morbidity and mortality, to which The Gambia is no exception.
He however revealed that in The Gambia, the number of intakes into nursing and midwifery training institutions have been increased by 100%.
He added that midwives' commitment to families, within a functioning health system and supportive environment is also a core element is challenged of Primary Health Care.
He explained that health care is back on the global health agenda and nursing is leading the way in ensuring the active participation of citizens and communities in addressing health issues and accessing appropriate health services round the clock.
He said: "Nurses work in an emergency room, health Centre, outpatient department, nursing home, school, refugee camp, STI's clinic, nursing school, research or any of the myriad settings, nurses are helping communities and individuals deal with health challenges.
"Nurses talk to people about lifestyle issues, how to avoid illness, how to ensure their water supply is safe, about their immunisation, etc.
"Nurses work with pregnant women, the elderly, or other special needs groups to identify service needs and solutions.
"Nurses supervise or deliver home-based care.
"Nurses work with a faith-based or non- governmental organisation that focuses on development or global health.
"Nurses bring services to marginalized communities such as street people or sex workers.
"Nurses work in all settings-as clinicians, planners, policy makers, educators, managers, regulators, researchers, some of whom are WHO Representative, Health Minister, director, Professor, Cataract Surgeon and Anaesthetist."
In conclusion, Mr. Camara called on all nurses and midwives to actively participate in the Gambia's Nurses and Midwives Association in its efforts to uphold the dignity of the profession and complement the Government in ensuring that quality health care reaches the door steps of everybody in the country.
The Western Region event was facilitated by Mr. Juma Jallow.
Read Other Articles In Article (Archive)