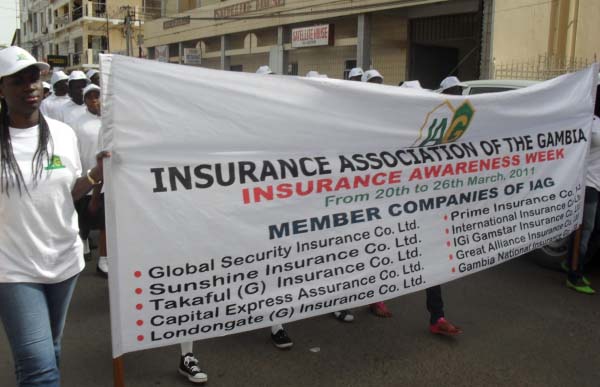 Officials from various insurance companies under the aegis of the Insurance Association of The Gambia (IAG) will today, Tuesday, begin a series of activities geared toward solidifying the position of the country's fledgling insurance industry.
As part of the activities, the stakeholders, including those from outside the insurance industry, will discuss the potential benefits of reforming the insurance industry so it could play a key role in the economic development of The Gambia.
This is the 5th edition of the annual Insurance Awareness Week, organised by the IAG, during which different stakeholders are engaged in a consultative forum with a view to enlightening them on issues of concern to the insurance industry.
The campaign also serves as a platform for insurance practitioners to further increase the general public's understanding of insurance and insurance policies.
A news release from the IAG secretariat in Banjul said the awareness week is part of the association's information, education and clarification ( dubbed IEC) programme that seeks to increase public awareness about the progress and benefits of The Gambia insurance industry.
The weeklong programme will today commence with a march-past starting at Westfield to end at the head office of Royal Insurance Company on Kairaba Avenue, where statements will be delivered by various insurance technocrats and other distinguished guests.
There will be a forum on the potential benefits of the proposed reforms of the insurance industry on the bourgeoning economy of The Gambia, on Wednesday.
The forum will be held at the Seaview Garden Hotel in Kololi, where statements will be delivered by speakers including Abdoulie Baks Touray, a development economist and chairman of the American Chamber of Commerce and Industry (The Gambia), and Festus Ahaotu, managing director of Capital Express Assurance Company Limited.
Thursday will be the annual general meeting of the association, during which members will discuss the association's achievements and challenges over the previous year and chart a new way forward.
The IAG co-operative credit union will hold its annual general meeting on Friday, and Saturday, the last day of the weeklong event, is slated for the association's picnic to be attended by senior officials and the staff of all insurance companies in the country.
Read Other Articles In Article (Archive)