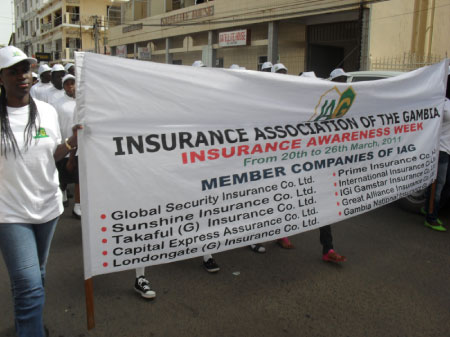 The Insurance Association of the Gambia (IAG) today starts its annual weeklong sensitization campaign that seeks to further increase the general public's understanding of insurance and insurance policies in order to lay foundation for building a trusting relationship between insurance providers and the public.
The campaign marks the second edition of the Insurance Awareness Week, which is part of the IAG's information, education and clarification programme that seeks to increase public awareness about the progress and benefits of The Gambia insurance industry.
The awareness week focuses attention on creating improved public relations as well as offers the general public the opportunity to be part of its educational activities from dynamic lectures and presentations on various issues about insurance in the country. 
"The Insurance Awareness Week seeks to draw attention to the noble profession of insurance, contributes to providing better understanding of basic insurance by the public, improves the public image of the industry, and develops public interest in insurance so as to pave way for a more insurance responsive public," said IAG executive secretary Henry Jawo.
According to Saihou Samba, coordinator of the IAG, the campaign serves as "a platform for the general public to engage insurance practitioners in a consultative forum to clear any misconceptions" about insurance or insurance policies. 
He added: "The IAG will also use the opportunity to showcase its membership to the insuring public hence promoting member companies."
The weeklong programme will today commence with a sponsored walk starting at the branch of the International Insurance Company on Kairaba Avenue, going through Westfield to Serrekunda and ending at the head office of the Gambia National Insurance Company on Kairaba Avenue, where statements will be delivered by various insurance technocrats and other distinguished guests.
On Tuesday the IAG will launch its website at its secretariat in Banjul.   The website allows information dissemination to a wider audience, both in and out of the country, about the IAG and the Gambia insurance industry in general. On Wednesday, the association will organize a lecture on the theme: "The role of the Gambia insurance industry in the Programme for Accelerated Growth and Employment (PAGE)" to be held at the Atlantic Hotel in Banjul.
Thursday will be the annual general meeting of the association in which its members will discuss the association's achievements and challenges over the previous year and chat a new way forward. 
On Friday, the association will organize a football match to be held at the Manjai football field, and Saturday, the last day of the weeklong event, is slated for the association's annual dinner.
Read Other Articles In Article (Archive)