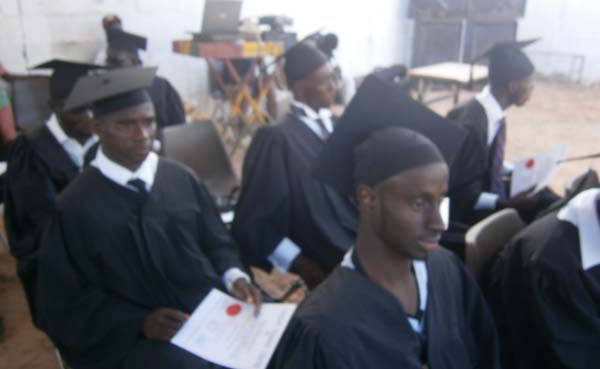 Insight Training Centre (ITC) Saturday held its 14th graduation ceremony at the Insight Annex School in Sinchu Alhagie.
The graduation was witnessed by PS for MOHERST, and officials of OIC, NTA and GAMWORKS, the school's Board of Directors, staff and students, as well as families of the graduands.
Speaking at the ceremony, Alieu Dibba, chairman, Board of Directors of ITC, said the graduation was like an evolution moving from one stage to another.
He advised the graduands that, having made this achievement, the world is now open to them hence whatever they do in life they should fear God because he created them and they must sacrifice for them to achieve their goals.
Ismaila Ceesay, Principal of ITC, said the ITC was established in 1999 when tertiary education was not likely owned by Gambians because there were few institutions owned by foreigners who they believed were in the country to help but they could not leave them to operate independently without their involvement.
As loyal citizens of the country, he added, they must play their part and help the genuine ones like NTA and the Ministry of Trade, Industry, Regional Integration and Employment to enable Gambians to venture into skills training, which was why Asia had been transformed rapidly.
"The mission of ITC is to provide quality, affordable and relevant education and accessible skill training to everyone, especially the youth," Mr Ceesay said.
He also advised the graduands to work together and be cognizant of the fact that there is power and development in unity.
He revealed that they have partnered with the ECOWAS government through the Ministry of Trade and the NTA to train 224 students in URR in the following fields of study: electrical, construction, tailoring and others.
He disclosed that more than 3,000 students have graduated from ITC in different fields of study, such as electrical installation, English Language, journalism, construction among others.
"ITC is a Gambian-owned institution and have partnered with other institutions in the country in the demonstration of their patriotism in training of the youth," Principal Ceesay stated.
He said the 75 students who graduated in various fields of study included 4 in architecture, 6 in management, 8 in electrical installation, 41 in ICT, 6 in journalism, 3 in marketing, and 3 in tourism.
Delivering a speech on the "role of vocational education and training in national development, what the youths should know", Baboucarr Ceesay from GAMWORKS said technical and vocational training is education that prepares people for specific trade, crafts, careers and professions at various levels.
He said the technical or vocational training is usually based on manual and practical activities, tertiary or non-academics related to a specific set of job skills, occupations or vacations in which the learner participates.
He said that in The Gambia technical and vocational education is under the supervision of the NTA, which regulates and ensures the existing training programmes, develops The Gambia's skills qualification framework to attain international standards.
He said The Gambia is a developing country which needs requisite skills and development to strengthen the human resource and development base across all economic sectors.
The role of technical and vocational education in national development is to provide a source of means of achieving an agenda and aspiration, he added.
Certificates and other precious items were given to the graduates.
Read Other Articles In Article (Archive)