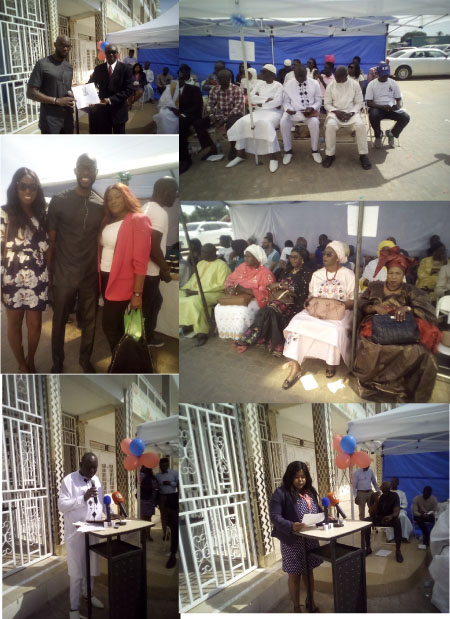 INNOVARX Global Health (IGH), a business-to-business cum business-to-customer service provider recently extended its services to The Gambia with the inauguration of its new regional complex in Kanifing.

The new firm, which is set to become the premier clinical services and technology solutions provider in The Gambia, will now ensure access to quality and affordable care to all Gambians.
Established by a young Gambian, Dr. Ismalia Badjie, the new firm seeks to pave a way for first of its kind modern and innovative approach to health care management.
The officially opening was presided over by the Minister of Information of the Gambia Hon. Ebrima Sillah and was attended by various dignitaries and government officials.
Speaking at the inauguration, Minister Sillah expressed delight to be associated with the gathering, saying the establishment of this regional office in The Gambia could not have come at a better time when the government has started initiatives to encourage greater private sector participation especially the health care service delivery.
"Your areas of intervention ranging from non-communicable disease prevention and management, medication therapy management, telemedicine, supply and distribution of pharmaceutical products and medical services to electronic health records management are indeed critical, important areas within health care sector that require heavy capital investment".
Minister Sillah recalled that since 2017 the new government has significantly increased its budgetary allocation to the health sector, noting that among other things, rapid urbanization and high population density in major settlements in the rural areas are major challenges exerting tremendous pressures on the health sector.
"Until now, most of the services being offered by INNOVARX Global Health were only available outside of The Gambia. The initiative therefore to establish a regional office here in The Gambia, will most definitely provide the necessary window of opportunity and choice for the people of The Gambia to seek treatment within the country thereby making significant savings .I therefore want to take this opportunity, to most profoundly, thank the partners and management of INNOVARX Global Health for choosing The Gambia as their operational headquarters".
Minister Sillah indicated that with the launch of this national broadband network, high end value services within the healthcare delivery such as telemedicine and electronic health records management are now within reach of Gambians.
"I want to urge the management of INNOVARX Global Health to utilize the opportunities offered by the ICT infrastructure to work with the government to improve local people's access to a range of health services in the country using cutting edge technologies".
The government, he assured, will continue to provide the necessary regulatory and policy frameworks to attract private sector participation and investment in the health sector.
Sillah hinted that the move is in line with the overall government agenda as clearly spelt out in the National Development Plan to upgrade health facilities, improve access and assure affordability.
"The long term agenda is to ensure that our health care facilities are developed to a point where we attract health tourism in The Gambia. We recognize that this can only happen in an environment where there is huge private sector participation and investment".
For his part Dr. Ismalia Badjie, founder and Chief Executive Officer IGH, said INNOVARX Global Health LTD seeks to be become the premier clinical services and technology solutions company in The Gambia , which will enable access to quality and affordable care to all Gambians and subsequently surrounding West African Nations.
The firm, he said, is formed out of a dire necessary for innovative approaches to delivery of healthcare, adding that IGH will serve as a true bridge between modern health care solutions and affordable access locally.
Registered and headquartered in Charlotte, NC USA, IGH Ltd paves the way for a first of its kind modern and INNOVARX approaches to healthcare management in times when there is a growing need and demand for services aimed at effectively managing non – communicable disease and nationwide access to quality medication.
"The vision of the IGH is to be the leading catalyst in creating sustainable healthcare solutions of value that minimize the disparity in quality healthcare solutions through the management of chronic medical conditions, medical training of healthcare providers, promotion of overall patients wellness and distribution of new age medical products and devices".
The mission statement, he went on, is to transform healthcare delivery in Sub-Saharan Africa through accessible affordable and Innovative, patient- centered healthcare.
"INNOVARX Global was born out of the founder's vision for a Gambia where access to quality healthcare was not a privilege but a right for all. A Gambia where people continuously invest in their health through regular screening and increased awareness for it is our most valuable form of wealth. "
Dr Badjie noted that INNOVARX Global health will be the first of its kind with an outcome- based approach to disease state prevention and management.
"Our implementation of point of care testing and electronic health records will allow for the integration of us standards of care with the demands of the Gambians health population".
Read Other Articles In Article (Archive)