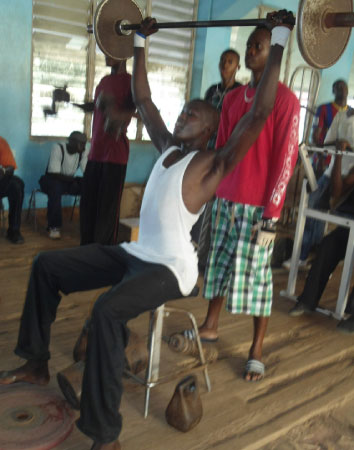 Ebrima Freeman, senior gym attendant connected to the Independence Stadium gym, has underlined the significance of gym.
In a brief interview with Pointsport at the Independence Stadium fitness centre on Tuesday evening, Freeman gave a detailed explanation on the importance of gym.
He said the significance of gym cannot be overemphasised given the fact that it can reduce hypertension, diabetes and other related diseases through fitness.
Gym is also capable of improving fitness and health, said the 51-year-old senior gym attendant who was mandated to look into the affairs of the Independence Stadium gymnasium since 1992 under the leadership of Nyang Sillah, former general manager of the Independence Stadium.
A good number of sporting associations in The Gambia have benefited from international competitions but the gym is an exception and Freeman has offered an explanation to this.
He told this reporter that the gym centre has never taken part in any international competition because it is not meant for international competitions; rather it is meant to reduce hypertension, diabetes and other related diseases to improve the standard of people's good health.
Gymnastic also play a great role in bringing the youths together to foster relationship among them, said Freeman, who has spent 19 years in charge of the Independence Stadium gym.
The Independence Stadium gym, which has accumulated a good number of trainees ranging from the male to the female categories, was established in 1985 but the aerobic gym was introduced in the stadium in 1992 under Freeman's protection, Pointsport has gathered.
The Independence Stadium gym forms part of the facilities of the country's main stadium constructed by a main land Chinese construction company to the tune of thirty million dalasis, (D30, 000,000), this reporter was reliably informed.
It was opened on 18th February 1984 under the leadership of the former president of the Republic of the Gambia, Sir Dawda Kairaba Jawara.
Read Other Articles In Article (Archive)