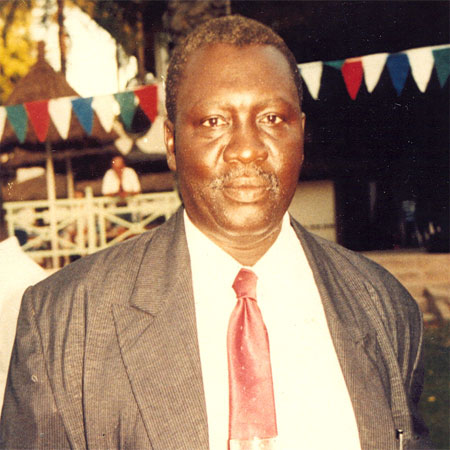 Amina Saho-Ceesay, Master of the High Court, sitting at the Banjul Magistrates' Court has yesterday overruled the Prosecution's application yet for another adjournment, to still call their last two witnesses to render evidence in the ongoing nationality case against Mr.Pap Saine.
Amina Saho-Ceesay, Master of the High Court who is empowered by the constitution to preside over matters in Chambers or sit as first class magistrate in any court, ruled against the prosecution following previous applications made by the Prosecution on the 29th April 2009 for adjournment, in light of the fact that the last two prosecution witnesses are out of the jurisdiction and supposed to return on the 15th May 2009. Subsequently, without any objection from the defence team, the application was granted but the defence team led by Lawyer Antouman Gaye further submitted that there is always an end to litigation, that the prosecution must provide the witness in yesterday's sitting or the court close the Prosecution case.
While the case was called yesterday at , the matter was stood down for eight minutes since the prosecution was late to appear in court. At on the 18th May 2009, when the case was recalled, the Prosecution asked for another adjournment on the ground that they could not bring their two prosecution witnesses, whom the prosecution adduced were State employees and were engaged in State duties.
The defence team led by Senior Lawyer Antouman Gaye, strongly objected to the Prosecution's application. Counsel Gaye pointed out that the witnesses intended to be called are unnamed, and no date was given for their appearance. Thus the Court cannot rely on the certainty of the progress of proceedings. He further explained that the defence team did not object to the last application in which the Prosecution applied to call and present its last two witnesses in yesterday's sitting and only to request for more time to still call these two witnesses. Defence counsel then invoked Section 121 of the constitution, that Government and all departments should accord all assistance to the court in order to protect the efficiency of the court and not to cause any definitive constitutional uncertainty.
At this juncture the court ruled against the prosecution for another adjournment and ordered the close of the Prosecution's case.
Defence counsel then decided not to give any evidence as defence, because the Defence have no case to answer. "The only statement we will make is to submit that the accused person has no case to answer to, now," he submitted.
The sitting Magistrate ruled that she had other obligations at the High Court, and asked for a date for defence to make their 'no case' submission. The case was then adjourned to the 27th May 2009, at .
 The Accused was represented by Counsels Antouman Gaye, Hawa Sisay-Sabally, Modou Musa Drammeh, and Hajum Gaye.
Read Other Articles In Article (Archive)