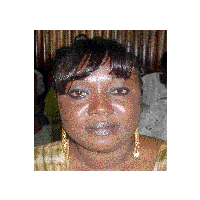 In connection with court order made on
the 24

th

August 2008
for the production of Oley Sey's own written statement she made to the National Intelligence Agency (NIA) on
7

th

August 2008
service was not effected.
When the case resumed yesterday, the court was made to understand that the order it made on the last adjourned date for the NIA to produce the 1staccused Oley Sey'sown written statementwas not effected.
The case which was scheduled for continuation of evidence of the 1staccused testimony could not proceed as the court order was not served to the NIA. The court however renewed the order by ordering the NIA to produce the 1staccused written statement.
This development came when defence counsel Lamin Camara earliermade the application for the court to order the NIA to produce the 1staccused Oley Sey's statement.
The prosecution for its part maintained that such a statement never existed and that the 1staccused Oley Sey only made a cautionary statement to the NIA and nothing more. Sub-Inspector Keita further stated that the very officer who obtained the statement from the 1staccused had given evidence before the court and he did not make mention of such a statement throughout his testimony.
It could be recalled that the two accused persons Oley Sey and Abdou Rahman Bah are standing trial at the Banjul Magistrates' Court before Magistrate Lamin George for allegedly conspiring and stealing the sum of D500,000 being money meant for SulaymanJunkungJammehMemorialNursery School in Abuko.
The case was adjourned to 8thOctober 2008.
Read Other Articles In Article (Archive)