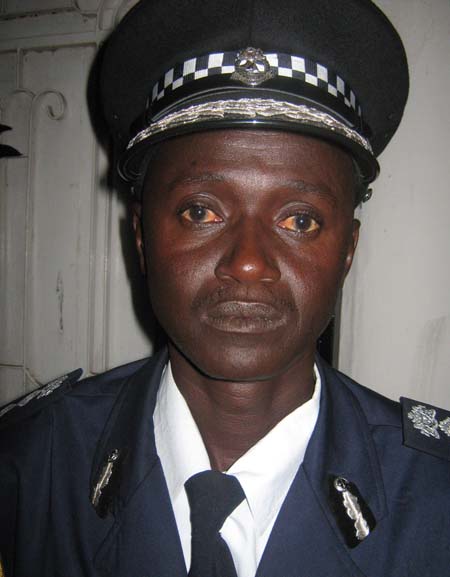 Soriba Condeh, the first prosecution witness (PW1) in the ongoing robbery trial involving the ex Inspector General of Police Ensa Badjie and Chief Superintendent of Prisons Ali Ceesay, has continued to give evidence at the Special Criminal Court of the high court in Banjul.
Concluding his testimony yesterday before Justice Ikpala, PWI who is a convict at Mile 2 Prison told the court that the bank they robbed is located at Buffer Zone between Serrekunda and Tallinding.
"After the operation, one of my colleagues, Ebrima Suma, was arrested," he told the court. It was then, he added, that the 1st accused person (Ensa Badjie) called him and informed him of the arrest of his boy, and asked whether Ebrima Suma knows his place of residence. Condeh said he replied in the affirmative.
"I was advised by the 1st accused to vacate immediately before the arresting team could effect my arrest," PW1 further revealed. "I then left for Kerr Sering," the witness told the court.
While in Kerr Sering, he added "I received a call from my driver, and I instructed him not go back to the workshop, but to meet me at Kerr Sering.
"The police came there with one Fatou Mendy, and I was arrested. I was arrested by Landing Bojang, who then called the 1st accused person."
"He told him that 'you said anybody who arrests Soriba Condeh will be awarded D6000.' Landing told the 1st accused (Ensa Badjie), 'talk to him,' and I was later taken to Serrekunda Police Station."
He testified that the 1st accused came to the station, "and asked me what I was doing at the station," and I was later placed in a cell. He added that the 1st accused, at that particular time, told him that he could not do anything in the case.
Further testifying, PW1 told the court that he knows one Pateh Jallow, with whom, he said, something had transpired at Serrekunda police station.
Explaining what happened at the police station, he said "I told the 1st accused to help me with cannabis to smoke, and he took me to the drug squad office, to one Pateh Jallow. I was given the drug, and one Pa Suso took me to the toilet to smoke."
He further revealed that Ensa Badjie "gave some money to Pa Suso for alcohol."
He adduced further that, thereafter, officer Landing Bojang asked him about the 1st accused, and said that he suspected something between them.
"I told him that there was nothing between myself and the 1st accused." He said the reason he gave that response to Landing Bojang was because there was an agreement between him and the 1st accused, as they work together.
According to PW1, after going back to his cell, he called the 1st accused and told him that Landing Bojang wanted him to give information to implicate him (Ensa Badjie), and that he refused.
He added that the 1st accused then uttered abusive words on Landing Bojang, and that it was Tony who intervened between them.
"I was taken to court with Ebrima Suma. Before I was taken to court, the 1st accused said he was ready to help, either to provide a lawyer or find a way out of the situation," he told the court.
"When I was taken to court, I was sentenced to 10 years in prison. Ebrima Suma was sentenced to 7 years in prison, while Ebrima Camara alias Langaman, who pleaded not guilty, died in custody," PW1 further told the court.
He added that they all pleaded guilty upon the instruction of the 1st accused, Ensa Badjie. We were arraigned before the then Magistrate Pa Harry Jammeh of the Kanifing Magistrates' Court.
According to the witness, he was facing another trial at the Bundung Magistrates court together with Ebrima Suma, Ebrima Camara alias Langarman, Amadou Jallow, Muhammed Darboe, and Sgt Jahateh was the prosecutor.
On that day, PW1 went on, while at Bundung Magistrates' Court, Sgt Jahateh called all of them under a mango tree within the court premises, and informed them that he had already spoken to the 1st accused, and that he is ready to help them to escape.
On that particular day, he continued, they were escorted by 15 paramilitary officers to and from Bundung Magistrates' Court. Sgt Jahateh had told them that, if on any day they see that only one officer comes to collect them, it is the day they should know there is a way out, he said.
On a certain day, while at Mile 2 Prison, Condeh said, "one corporal Kieta came for us. We boarded the vehicle, and the officer was in front with the driver. As we approached Super Bird, then I opened the door, and we all escaped. I went to Tony to explain to him that I have escaped from custody," and that Tony gave him D2, 500 to find his way.
He said Tony is a friend of the 1st accused, Ensa Badjie.
He added that, after receiving that money from Tony, he left for Brikama, and "I spent the night there until the following morning, at around 5 pm, when he left for Kartong."
"On my way to Kartong, we came across a checkpoint where I met the 1st accused with other officers, and I was arrested, and he (Ensa Badjie) took me to Serrekunda police station. I was then taken by one officer to the Serious Crime Unit, and finally taken to the court."
Condeh said he knows one Benedict Jammeh, the former Inspector General of Police, adding that he was one day called by Ben in the matter related to the 1st accused, and that he (Ben) had received information which he wanted him (Condeh) to clarify between him and the 1st accused.
Then I explained to him the relationship between me and the 1st accused whom, he told Ben, used to send him to steal.
Condeh said that when he was explaining this to Ben, it was in the presence of the ex CDS Lang Tombong Tamba. Ben according to Condeh told Lang Tombong Tamba that the 1st accused should be arrested, but Lang told Ben that the 1st accused should not be arrested. Thus, he said, Ensa Badjie was never arrest.
Encounter with 2nd accused
Condeh also told the court what transpired between him and the 2nd accused person, Chief Superintendent of Prison Ali Ceesay.
According to PW1, while in prison in 2007, the 2nd accused was the officer in charge of confinement cells.
"I had an emergency visitor, and I was escorted by the 2nd accused to the visiting room. The visitor was one Fatou Mendy."
He said after Fatou's departure, the 2nd accused called him and told him that "I heard all what you have narrated to Fotou Mendy including your relationship with the 1st accused."
Condeh said the 2nd accused told him that he was being used to implicate people, and that those people using him will abandon him.
He said he told the 2nd accused that nobody has spoken to him so that he can implicate the 1st accused.
Condeh added that on 5th May 2010, he was in prison sitting with one Kalilu Conteh, when the 2nd accused came and told him that 'you are going to the NIA, and anything negative you say there, you will never see the sun again.'
He further narrated that he has been in prison for three years, but has never been out. He said he told the 2nd accused that he was going to NIA, but not out of his own free will, since the state wanted him there.
"I was then invited to the NIA in respect of the 1st accused, and after that the 2nd accused gave instructions for me to be kept in confinement," he added.
"I was beaten by Kemeseng Colley, after I was placed in confinement," he further revealed.
PW1 was subsequently cross- examined by defence counsel, Borry Touray
Hearing continues today. 
Ensa Badjie and Ali Ceesay are in court following their indictment by state prosecutors. They are facing several counts, including conspiracy to commit a felony, robbery with violence, receiving stolen property, aiding and abetting, robbery, conspiracy to commit misdemeanour, aiding prisoner to escape, official corruption, conspiracy to defeat justice and interference with witnesses, deceiving witnesses, offences relating to judicial proceeding, and using criminal charms, among others.
Read Other Articles In Article (Archive)