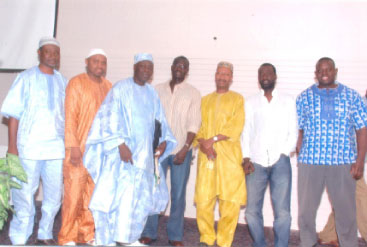 Imam Tarsi Gaye, a prominent Islamic scholar in the country, recently returned from the United States of America where he spent three months preaching the tenets of Islam.
His visit was connected to the late Imam Muhammed Lamin Bah, who went on a trip to Russia in 1968 on the invitation of the Mufti of Taskan.
According to the scholar, he was there with Alhagie Sulayman Bun Gaye. "During Imam Ablie Jobe's time too, we went on a trip to Morocco together in the year 1986. During that time both Imam Muhammed Lamin Bah and Imam Abdoulie Jobe advised me to continue these journeys after their demise," Imam Gaye explained.
He said he was happy to be also accompanied by Alhagie Mustapha Senghore, a Gambian residing in the United States, and to be received by the Gambia desk officer, office of West Africa, and others who represent other parts of Africa in the US.
"Our discussion included the relationship between Muslims and Christians in The Gambia," he said. "I told them that we have a peaceful relationship. We shared everything in common; in The Gambia there is freedom of worship, to maintain the peace. The president His Excellency Sheikh Professor Alhagie Dr Yahya A.J.J. Jammeh allowed the Supreme Islamic Council and the Christian Council to work hand in glove to promote peace among believers of the two major faiths."
Imam Gaye continued: "I told them The Gambia is a peaceful country, the president is always calling for peace and the people are peaceful."
While in the US, the Gambian Imam visited North Carolina, Atlanta and New York City.  He said: "I met with Gambians and advised them on how to take care of each other and to be good ambassadors of their country. I also urged them think about home and to be proud of their country."
According to the Imam, the trip gave him the opportunity to visit and pray in about ten mosques in New York leading in prayers and giving sermons to congregations.
The Harlem Islamic Culture Centre in New York was among the Islamic centres the Gambian scholar visited.
The mosque is owned by the Gambians and Senegalese, named after Alhagie Malick Sy of Tivaoune.
He noted: "I met with Imam Baba Leigh, who also gave a lecture on Ramadan at the centre, Masjid Sakafi in Bronx, owned by Talibes of Sheikh Ibrahim Nyass. I had a lecture on Islam for them at the Mosque too. There are both Gambians and Senegalese. I was accompanied during all these by Mustapha Senghore."
Imam Gaye said he also had the opportunity to visit the mosque of the Sarahule and Mandinka communities in the US.
The imam was full of praises for the US embassy through Ambassador Pamela Ann White, the Ministry of Foreign Affairs of The Gambia and The Gambian Permanent Ambassador at the UN.
Read Other Articles In Article (Archive)