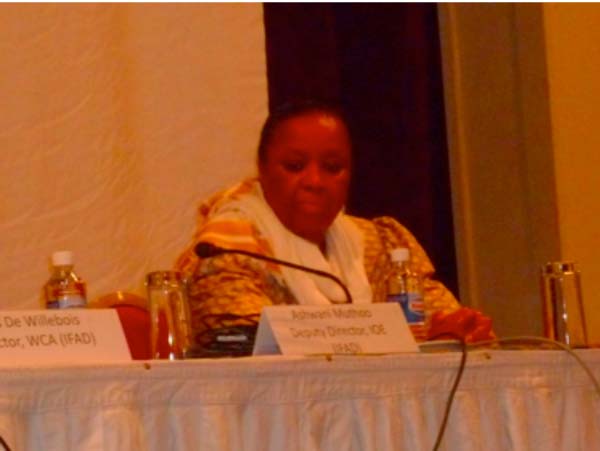 The Resident Coordinator of the United Nations System in The Gambia, Ms Ade Mamonyane Lekoetje, has said IFAD's support to The Gambia "is indispensable".
She was speaking at a daylong roundtable meeting organised by the Ministry of Finance and Economic Affairs and the Independent Evaluation Office of IFAD, held yesterday at the Kairaba Beach Hotel.
The meeting was a clear demonstration of "the true spirit the UN enjoys from the Government of The Gambia", she said, adding that the IFAD management team conducted a country programme evaluation to prepare reports on agriculture programmes to be presented for scrutiny.
"The backbone of any economy is agriculture and the partnership between the Government of The Gambia and IFAD is a step towards eradicating poverty," she stated.
She disclosed that IFAD had supported The Gambia with about US$73.1 million on projects and programmes.
She commended the Gambia government for the partnership with the UN agencies.
It would be recalled that the International Fund for Agricultural Development (IFAD) was established in 1977 in response to the food crises of the early 1970s that primarily affected the Sahelian countries of Africa.
Since that date, the Fund had worked in countries with high poverty rates operating to enhance the two closely connected issues such as food security and nutrition, as well as agricultural productivity.
The country programme evaluation was conducted by the IFAD Independent Evaluation Office in designing its operations in The Gambia between 2004 and 2014, a statement by the Fund said.
The Fund did not use structured geographical targeting to prioritise the poorest areas; IFAD did however adhere to a key principle of engagement by using government systems fully aligned with government strategies and priorities.
In many cases, poor farmers were reached and women were included, although the target was not specifically aimed at selecting poor rural villages.
The Independent Evaluation Office of IFAD conducts evaluations of IFAD finance policies, strategies and operations to promote accountability and learning.
The main purpose is to contribute to improving IFADs and its partner's performance in reducing rural poverty in recipient countries.
The Independent Evaluation Office assesses the impact of IFAD-funded activities and gives an analysis of success and shortcomings – "to tell it the way it is, as well as identify factors affecting performance".
Read Other Articles In Article (Archive)