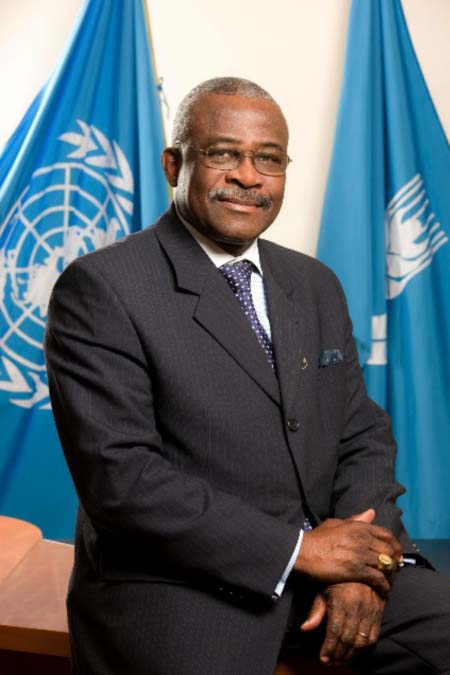 The President of the International Fund for Agricultural Development, IFAD, Kanayo F. Nwanze, is expected in The Gambia on Wednesday 20 August for a two-day official visit, during which he will meet with President Yahya Jammeh and other senior government officials.
"The focus of discussions will be on strengthening partnerships and furthering work to transform rural areas into economically vibrant places", a press release issued by IFAD has announced.
"Investments in smallholder agriculture that prioritize rural people, and in particular women and youth, will be on the top of my agenda during my discussions with country leaders in Banjul," said Nwanze prior to his departure.
"Smallholder family agriculturecan be a high-yielding, efficient and lucrative business, as well as a dignified profession that produces food, creates jobs, sustains families and puts countries on the road to stable, inclusive development."
Agriculture is an important sector of The Gambia's economy. It contributes up to25 per cent of GDP and provides employment and income for 70 per cent of the country's 2 million people.
Women account for over 50 per cent of the agricultural labour force and 70 per cent of unskilled labourers.They produce about 40 per cent of total agricultural output. IFAD's President, who champions gender issues and is an ardent advocate for women's empowerment, will pay a courtesy visit to Isatou Njie-Saidy, Vice President and Minister of Women Affairs, to discuss rural women's empowerment and how to enhance their contribution to family farming as a profitable economic activity.
"Gender equality and women's empowerment have always been at the core of IFAD's efforts to reduce poverty," said Nwanze.
"Investing in rural Gambian women, so that they have equal access to economic opportunities and services, is one of the most effective strategies for reducing poverty and malnutrition."
While in Banjul, Nwanze will meet with Kebba S. Touray, minister of Finance and Economic Affairs, and Solomon Owens, minister of Agriculture, to discuss how targeted investments in smallholder agriculture can raise household income levels, improve food and nutrition security and reduce levels of poverty on a sustainable basis.
He will also meet with local private sector representatives, as well as the United Nations country team.
During his stay in The Gambia, Nwanze will also visit an IFAD-supported rice farm run by a women's group in Pakalinding village and a functional literacy training programme for women in Sibanor, to see first-hand how participants have improved their lives.
Since 1982, IFAD has financed 10 programmes and projects in The Gambia with a total value of US$197.7 million, of which IFAD had contributed $73.9 million, directly benefiting 149,200 households.
IFAD invests in rural people, empowering them to reduce poverty, increase food security, improve nutrition and strengthen resilience.
Since 1978, IFAD has provided about US$15.8 billion in grants and low-interest loans to projects that have reached some 430 million people.
IFAD is an international financial institution and a specialized United Nations agency based in Rome – the UN's food and agriculture hub. 
Read Other Articles In Article (Archive)