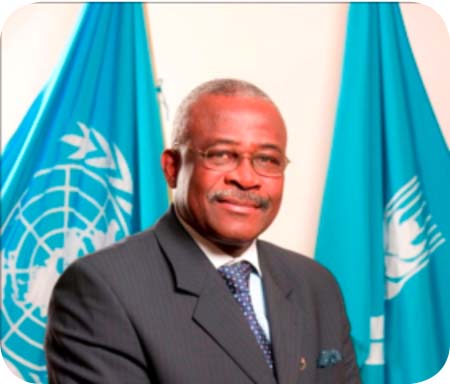 IFAD President Dr. Kanayo Nwanze arrived in Banjul Wednesday, and announced that he is visiting the country at the invitation of the Gambian authorities.
Speaking to reporters shortly after arriving in the country, at the Cocoa Ocean Hotel, Dr Nwanze said his visit is in response to an invitation by President Yahya Jammeh.
He expressed delight in being able to visit The Gambia "for the first time", adding that it is an opportunity to interact with the Gambian authorities, and learn more about the country's present development plans, particularly in the area of agriculture.
Dr. Nwanze announced that he would meet with the private sector, and encourage them to invest in agriculture.
According to IFAD President, part of his mission is to visit some projects supported by IFAD in the country.
He said his message to Gambians is: "if you want to achieve inclusive sustainable development, you have to invest in the rural areas, because the rural areas are central to overall national development".
He added that since The Gambia imports 50 percent of its food, "if you want to grow your economy, and you want to create opportunities for small producers - who make up the majority of the farmers in this country - to have access to inputs, make access to land and access to financial services possible".
"We also want to give our support to the President in his Vision 2016, which aims to ensure that The Gambia is self-sufficient in rice production, and to also lend our support to the national agricultural investment plan," he declared.
Dr. Nwanze pointed out that IFAD has been supporting and working with The Gambia since 1982, and that "it was proper to insist on the centrality of agriculture, when The Gambia is an agriculture-based economy".
He said this would be the message, and that along these lines there are other issues that they would like to cover in his brief mission, including "to confirm IFAD's long-term commitment in associating itself with the development agenda of The Gambia".
Dr Nwanze and members of his team were received, when they arrived at Banjul international airport, by a high-powered government delegation comprising the ministers of Finance and Agriculture, as well as other senior government officials.
Read Other Articles In Article (Archive)