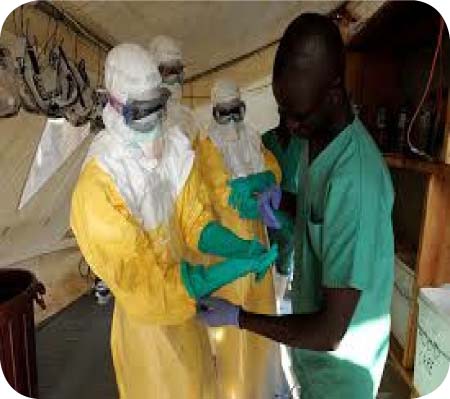 The Ebola outbreak in West Africa is putting off thousands of tourists who had planned trips to Africa this year, especially Asians, including to destinations thousands of miles from the nearest infected community such as Kenya and South Africa.
Ebola, a hemorrhagic disease which can kill up to 90 percent of those it infects, has claimed more than 1,200 lives this year in the three small West African states of Liberia, Sierra Leone and Guinea, and also has a toehold in Nigeria.
Although there are no known cases outside of this epicentre, many tourists are afraid to travel anywhere on the vast continent because of concerns the disease could spread, tour operators in Africa and Asia told Reuters on Wednesday.
The bulk of the cancellations are from Asia, which has had its own share of health crises, but visitors from the United States, Brazil and Europe have also scrapped their plans or delayed trips, they said.
A Brazilian business delegation this month also cancelled a trip to Namibia, in southern Africa.
"We've seen a huge amount of cancellations from Asia and the groups that do travel, the numbers have dropped," said Hannes Boshoff, Managing Director at Johannesburg-based ERM Tours, which organises travel to countries in southern Africa.
He said around 80 percent of his Asian customers had cancelled trips coming up in the next 2-3 months, including a group booking of 1,500 Thais worth 12 million rand ($1.12 mln).
"A lot of consumers just see Africa. They see it as one country ... I try and tell people that Europe and America are closer to the Ebola outbreak than South Africa," Boshoff said.
Nearly 10 million visitors came to South Africa in 2013 and tourism accounted for more than 10 percent of GDP, with Asian markets the fastest growing, according to national statistics.
The World Health Organisation declared the West African Ebola outbreak a "public health emergency of international concern" on Aug. 8, triggering global alarm as countries stepped up precautions and testing.
Intense media cover has magnified fears, although no current Ebola cases have been confirmed anywhere in the world outside Sierra Leone, Liberia, Guinea and Nigeria. Two suspected Ebola cases in South Africa this month tested negative for the disease.
The WHO has told the four countries to screen people departing at airports, seaports and major land border points and stop any with signs of the virus, but has argued against further travel restrictions. Several airlines have cancelled services to Liberia, Sierra Leone and Guinea, however.
The disease is spread by direct contact with the bodily fluids of infected persons or animals.
Asian Health Fears
Travel agents said Asians, who have lived through the deadly 2002/3 SARS epidemic and, more recently, a pandemic of H1N1 flu, do not want to take risks.
"We have dealt with a lot of guests who have literally been begged by their families to cancel their trip," said Kim Nixon, managing director at Singapore-based Asia To Africa Safaris, adding that most cancellations were trips to East Africa.
"The Asian market dealt a lot with H1N1 as well as SARS so there is a great fear of these virulent diseases no matter how easily they are spread," said Nixon, adding that 10 percent of his clients had cancelled or postponed trips.
Thompsons Africa said it had also seen the biggest cancellations from Asian clients but recently had a luxury group of U.S. travellers withdraw, which will cost the South African travel firm 500,000 rand.
"This sort of thing has momentum and it could get worse as we go into the next days and weeks," Thompsons Head of Sales Craig Drysdale said.
Simon Freemantle, a political economist at Standard Bank, noted that Africa's most advanced economy had health services better prepared to handle a crisis than most other countries on the continent even if an "imported" case were confirmed.
"But certainly it would be a very unwelcome development in light of the summer season coming up, and in our economic environment, one of the few areas that has actually been delivering some growth has been tourism," Freemantle said.
He said South Africa's tourism receipts had increased since it hosted the 2010 World Cup, a bright spot in a struggling economy that will fall short of two percent growth this year.
Besides tourism, Ebola fears are also hitting business travel and investment events in Africa, threatening the continent's image as a rising economic star.
The national tourist agency South Africa Tourism sought to reassure travellers. "Any contagious disease will have an impact anywhere in the world, whether it was happening in Asia or in America it would have been the same thing," Thulani Nzima, chief executive of South African Tourism, told state television.
"The message is: come enjoy South Africa, it is definitely Ebola free." Reuters
Read Other Articles In Article (Archive)