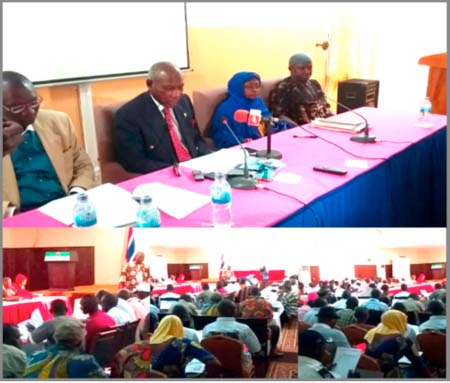 The Independent Electoral Commission (IEC) yesterday welcomed and briefed local and international election observers in respect of the upcoming December 1 election.

The IEC chairman, Alieu Momarr Njie, said the IEC since its inception in 1997 had conducted three presidential elections, three national assembly elections and three local government elections, as well as several by-elections for the national assembly and local government.
The Gambia's Independent Electoral Commission was established under chapter 5, section 42 of the Constitution of the Republic of The Gambia.
It is mandated under the constitution and electoral laws with the registration of political parties, the conduct and supervision of the registration of voters for all public elections and referenda, and announces the results of all elections and referenda for which it is responsible.
There are 886,578 registered voters and 1,422 polling stations for the fourth presidential election, slated for Thursday 1 December 2016, he added.
The Banjul Administrative Area registered 22,731 voters with 35 polling stations, Kanifing Administrative Area registered 199,957 voters with 287 polling stations, Brikama Administrative Area registered 281,115 voters with 427 polling stations, Kerewan Administrative Area registered 101,717 voters with 183 polling stations, Mansakonko Administrative Area registered 49,198 voters with 90 polling stations, Janjanbureh Administrative Area registered 116,675 voters with 207 polling stations and Basse Administrative Area registered 115,185 voters with 193 polling stations
Five thousand four hundred and sixty-two polling staff will be contracted to manage these polling stations.
One hundred and twenty-two assistant returning officers have been hired to work in the 53 constituencies countrywide, and there are seven collation centers, while counting will be done at the polling stations at the close of polls.
He said polls will be opened at 8am and close at 5pm.
Mr Njie further stated that no one could rig the election, as the electoral system is second to none in terms of its transparency, credibility, fairness and accuracy.
"Come Thursday 1 December, during your visits to the various polling stations, you will see for yourself countrywide that our voting system is fool-proof, tamper-proof and rig-proof."
He entreated donor agencies to make significant contributions towards the costs associated with temporarily hired electoral staff, party agents and other related costs towards the forthcoming elections.
He registered his profound gratitude to the UNDP for their invaluable and tangible support.
The Inspector General of Police, Yankuba Sonko, in his remarks, said although elections in Africa are sometimes marred by violence and insecurity, they are hopeful that of The Gambia would be a peaceful one.
He called on the general public to jealously safeguard the existing peace and security, and remain vigilant to report any suspicious or clandestine activity to the police or members of the security agencies, for redress.
''While the genuine individuals within the country engage themselves in decent and peaceful politics, some unscrupulous individuals may want to take advantage of the situation to cause violence and other forms of crime.
''Minor incidences have occurred during some campaigns in few regions, but were effectively managed by the police and stakeholders."
These incidences included the assault on the village head of Basori and entourage by stoning in West Coast Region, assault on two APRC militants at Abuko and Cow Junction in Kanifing Region, the tampering with APRC flag and assault on one APRC militant, alleged attempt to remove the portrait of the incumbent president in Ndowen in CRR, and stoning of APRC party members in their meetings at Dampha Kunda and Tamba Sansang, both in URR.
All these reported incidences were perpetrated against the APRC party by members of the opposition, he added.
"In spite of these minor hitches, we are particularly confident that the forthcoming presidential election would be conducted in an atmosphere of peace and security."
IGP Sonko reassured the observers and the general public that there is already adequate security countrywide for the election, as they have beefed up security at all regions, including the key installations and for VIPs, at the various polling stations and for all political heads.
He hailed the unprecedented level of collaboration among the stakeholder institutions such as the IEC, the police, National Security Council, civil society organisations, and the political parties on election matters, who have all been advocating for peace and security during the electoral process.
Read Other Articles In Article (Archive)