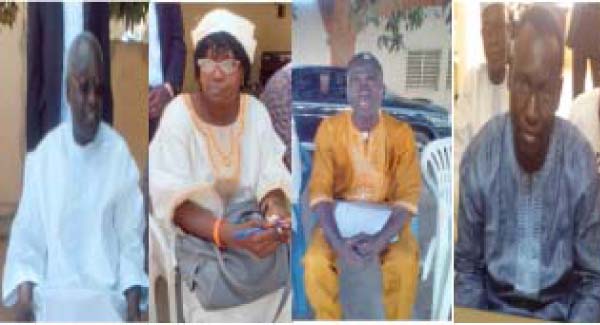 The Independent Electoral Commission (IEC) on Saturday accepted the nomination papers of candidates of the People's Democratic Organisation for Independence and Socialism (PDOIS) political party, for the 6th April National Assembly elections.

The candidates for the party in the Kanifing Municipality are: Amie Sillah for Bundungka Kunda constituency, Amad Janha, Latrikunda Sabiji constituency, Matarr Ceesay, SerreKunda West constituency, and Halifa Sallah, secretary general of the party, for Serekunda constituency.
Their candidacy in the forthcoming National Assembly election was approved by the IEC regional office in Kanifing. The candidates were accompanied to the IEC regional office by supporters drumming, singing and dancing.
Speaking to journalists after the IEC's endorsement of their nomination papers, PDOIS secretary general Halifa Sallah said: "Some days ago, a bill was taken to the National Assembly and passed, but after I wrote that it was unconstitutional the Attorney General came out and confirmed that it was unconstitutional.
"Knowledge is not based on age; capacity is not based on age, so if young people want to take charge of their destiny they have to seek the type of knowledge that is essential to take charge of their time. It is the duty of the young now to begin that process.
"For me, the National Assembly at this very moment is a place I am destined to because it has been an institution which has been abused, transforming into a rubberstamp institution enabling others to take charge of the destiny of the people and transform our liberty and prosperity into a causality.
"Our duty now is to go back to that National Assembly, and build it up so they can serve as an oversight institution that will ensure that laws that will guide our liberty will be established, and policies that will ensure our prosperities will be elaborated. It is our duty to ensure that."
Asked what he would do differently if elected to the parliament, Mr Sallah said: "It is not about doing something differently, it is doing what should be done. We are going there now to build it up, because we saw the way the previous government was running and we said there was absolutism of power; there was self-perpetuating rule. We decided to confront the self-perpetuating rule collectively by putting our party interest behind so that we change the government, and we succeeded."
Amie Sillah, a prominent women's rights activist and journalist, said her main priority is to be a true representative of the people: to be their eyes, ears, mouth, and everything.
She said as an activist, her line of policy argument at the parliament, if elected, is not going to be based on partisan issues. She said there is a need for more women role models and mentors to come in to the parliament, so that gradually the number of women parliamentarians can increase.
"When I am elected, I will ensure what the reforms that the coalition promised in terms of quota system is materialized, so that we can have more women and then proportional representation.
"I don't think I will lose this election because I contested under Jawara's (the first president of The Gambia) administration, though I lost my deposit, it was very tough contest. I also contested under Yahya Jammeh's regime and gained my deposit, but now I am more organised."
Matarr Ceesay, another prospective PDOIS parliamentarian, said his constituency, Serrekunda West, is the biggest and needs a lot of attention and, as such, it needs a competent person like him as a representative in the parliament.
He said if elected, his priorities would include raising the concerns of his people at the parliament because there are so many problems relating to socio-economic issues in the constituency.
He also promised to ensure that laws that he would lend his support to are gender-sensitive.
Amad Janha, PDOIS candidate for Latrikunda Sabiji constituency, said if elected, he would work with like-minded colleagues to rectify and modify existing laws made under Jammeh's regime to suit the Gambians.
He promised to be part of those to champion media law reforms in ensuring that journalists do their job with dignity, and no interference or intimidation.
Read Other Articles In Article (Archive)