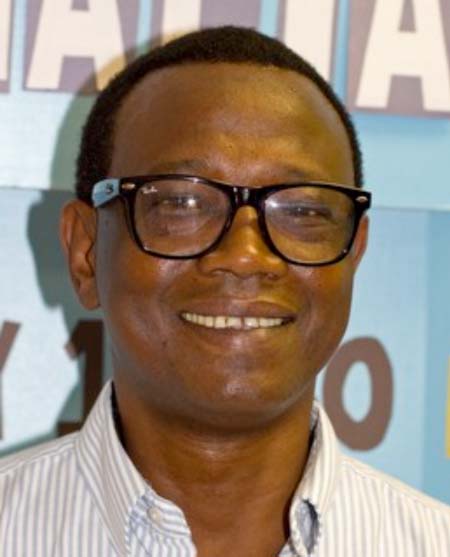 It's Saturday, July 01, 2017. We left my lodgings at 4:04 am and got to Banjul at 4:45, so we could catch the first ferry to Barra. We are packed at the Banjul ferry terminal, waiting to cross to Barra for my first trip to Farafenni in many years. The drive from Brufut to Banjul was almost effortless. But God, we turned into Wellington Street, the pathway to the Banjul Ferry Terminal. I could not believe my eyes. The street was one big pool of muddy water. It was impossible to believe that a street in the middle of our capital city was this bad. It was almost a series of lakes and muddy mini mountains through which cars have to wade and wobble to access the ferry terminal.

Many times I find myself holding my mouth, peering around me, wondering, whatever happened to this dear little country. The people look visibly relieved that the tyranny that oppressed their lives for so long is now gone. But they also seem strangely traumatized, dazed. You could almost feel the sense of both naked despair and elation in the air. There is a certain turbulence in the calm. A certain ugly in the beauty. People look calm, but their eyes bear the scars of pain. Their fear of the dead dictatorship is yet to dissipate. Their sense of desperation is lifting. But it remains visible on gaunt faces. The taut skin speaks of tiredness, of fatigue born of twenty two years of fear, of watchfulness, of a sense of desperate bondage that threatened to last one billion years. One remembers calling friends in Gambia and mentioning Yahya Jammeh and being told in frightful tones, "hey, bayil lollu. Bul tuda koku" (hey stop that. Don't mention that name) followed by nervous laughter. It had grown so bad that ordinary Gambians were afraid to mention the name Yahya Jammeh in public. For fear of being overhead and picked up by the NIA, Jammeh's secret police and their ubiquitous network of informers planted in every nook and cranny of Gambian society. What on earth justifies such mad obsession with policing society as if people were some dangerous monsters? Perhaps, the strange mixture of fear and elation on people's faces speaks of a cautious optimism that things can only get better than they were for the past two decades.
I walked past a small group of elderly men standing around in a small circle, speaking in Mandinka. They were talking about Yahya Jammeh. I came back again and stopped, just outside their small circle. I was shamelessly snooping, knowing that my presence would not stop those determined elders from having their noisy say in the new Gambia. In the old Gambia, they would not have been talking about Yahya Jammeh at all, except perhaps to exclaim how great he was.
"They burnt all the ballots," one was saying. "Yae bae le jani!" (They burnt all of them!)
"Around Darsilameh too," another retorted, "lots of ballots were burned. Senegali yeng maakoi le deh!" (Senegal helped us a lot).
"Senegal and Gambia are the same," another added. "There are Fulolu in Senegal and Fulolu in Gambia; there are Mandinkolu in Senegal, and Mandinkolu in Gambia. Mbay moh killing!" (We are all the same people!).
"But are not all people the same?" another agreed.
"You know what the Nigerian president told his soldiers?" someone asked.
Everyone said hmmn, hmmn, in anticipation of the juicy bit of information.
"He told them if you go don't do anything. If they shoot you, shoot back; if not, don't do anything."
"They were going to catch him," another suggested in a confident tone. "Not a single shot would have been fired!"
"That's what he knew! That's why he ran away."
The elders laughed and one of them said: "Gambia diyaa taleh. Gambia diyaa taleh." (Gambia is sweet. Gambia is sweet).
I was pleasantly surprised to hear that statement. Yes, Gambia is sweet. In the months, weeks and days leading up to my trip, I did not know what to expect. I had been away so long that I found it hard to imagine how anything looked like. When I said this in a WhatsApp text message to my good friend and former Gambia High School classmate, Omar Gaye (Banaa) responded in his characteristic witty and confident style, "You will be pleasantly surprised." And yes I am pleasantly surprised at the new Gambia. I could not fail to notice our society's youthfulness. I could not fail to notice the confident beauty of the people, the respectful way in which ordinary Gambians in the street treat each other. I could not fail to notice how the very many young traffic police officers around the Kombos are so relaxed in their interactions with the bustling public and motorists. I could not fail to notice the youthful sense of purpose; a certain businesslike manner that, in a strange and interesting kind of way, strikes me as a spitting image of the new Gambia. There is certainly something new and beautiful in the air. Yes, we do have many problems and some serious challenges. But I can feel that Gambia is on the move.
I was disoriented for the first few days after my arrival. I had thought I would feel like a stranger, and I do feel like a stranger. Yet I feel perfectly at home. This land is my land, these people are my people, the very laid back, smiling, carefree Gambians I had left behind seventeen years ago. The magic is that they all seem to have grown younger and more beautiful! Yes, most people I know have visibly aged. But elderly people seem almost invisible in the Greater Banjul Area. Almost eight out of ten people I see on a daily basis are young. It is good to feel the vibrant energy. I remember my good friend and colleague Dr. Pierre Gomez telling me during the impasse that Jammeh's fall was largely due to "the Jammeh Generation." I now see what he means by the Jammeh generation. I now see that Jammeh was outgrown by Gambian society. While he was busy grabbing and hoarding the vestiges of power, Gambians were growing up, mushrooming in a manner he was totally blind to. And when it became necessary to topple the tyrant, the Jammeh generation was there to help execute the feat, to tear his posters down from billboards, and to shout in his ears that Gambia Has Decided! The sight of graffiti proclaiming "Gambia has Decided!" and "Jammeh Must Go!" around the Kombos stirs a warm feeling in the heart and tells you in no uncertain terms that Gambia is on the move. Our challenge is to make it move in the right direction. And we will do just that.
Back in the car at the Banjul ferry terminal, I think I recognize traces of Jammeh's NIA. I could see that blank indifference in the eyes of a couple of men. I was almost certain that they are former NIA, now the benign and restrained SIS (State Intelligence Service). I have pondered over the wisdom of keeping what used to be the NIA in a post-Jammeh Gambia. Perhaps to help thwart any evil plans by the former despot to destabilize the new government? Anyway, as I sat in the front seat of my car and started typing these thoughts on my laptop, one of the men I suspect to be ex-NIA agents walked over and planted himself right in front of the car. He was talking on the phone, or pretending to do so, eating a sandwich, and making small talk with passers-by at the same time by saying things like eh boy ibedee? Waw nakam? Mbinaa mbinaa mbinaa. Hey hey naa jang naa jang! It was clear that he was watching me, all the while pretending not to be doing any such thing.
In by-gone days, he might have come over to ask what was I writing about, or perhaps "invite" me to go with him to NIA headquarters. And I would have had to go. There, I would be asked to sit on a dry chair. And I would be asked a long series of silly questions. Then I would be asked to sit on a wooden bench. And I would be forced to watch an ugly system creaking and cracking and screeching around all day long. That was how it was back in the day. Maybe now they would have just sent me to the torture chamber. In any case, I was spared that sad eventuality. Nii mang kukeh kutela is back!
Read Other Articles In Article (Archive)