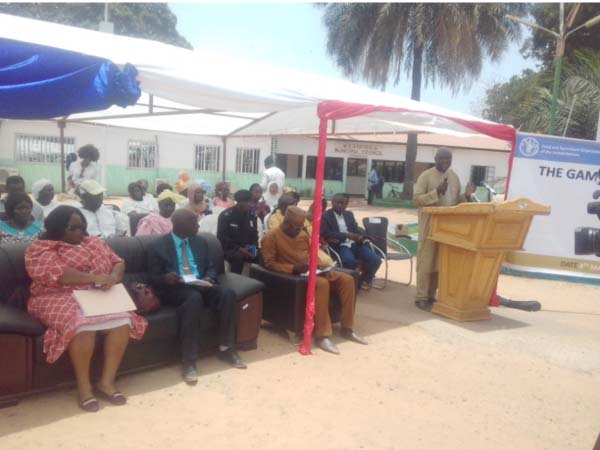 The Government of The Gambia through the department of Agriculture, in collaboration with Food and Agriculture Orgainsation (FAO) and other partners, Thursday commemorated the International Year of Pulses (IYP) in the form of food fair pulses.

The commemoration, held at the Kanifing Municipality Council grounds, aimed to raise awareness of the benefits of pulses, boost their production, consumption and trade and encourage their smarter use throughout food chain.
Pulses, including all kinds of dried beans and peas, are a cheap, delicious and highly nutritious source of protein and vital micronutrients that can greatly benefit people's health, particularly in developing countries.
The UN General Assembly, at its 68th session, declared 2016 as International Year of Pulses (IYP) and the Food and Agriculture Organisation of United Nations (FAO) was nominated to facilitate the implementation of the year in collaboration with the governments, non-Governmental Organisations and other relevant stakeholders.
Speaking on the occasion, Mayor Yankuba Colley of the Kanifing Municipal Council, said he was delighted and proud to be the host of the first ever national food fair on pulses, as beans are one of the most important crops for The Gambia.
He said: "According to experts, pulses have immense benefits for food and nutrition security, public heath, the environment and biodiversity."
Mayor Colley added that beans are in high demand in The Gambia, adding that they are part of the diet of most people within his municipality.
He said though land for agricultural production is virtually nonexistent within the Kanifing Municipality and Banjul, pulses, particularity beans are largely consumed by the inhabitants of the municipality due to its population size and market opportunities.
According to Mayor Colley, people in these areas consume trade beans on a daily basis. He solicited continued partnership and support in boosting pulse production and trade as well as encouraging value addition throughout the food chain.
Also speaking, the Director General of Agriculture, Falalo M. Touray, said the international year of pulse 2016 with a food fair on pulses was conceived by the UN General Assembly at its 68th session to raise awareness of the many benefit of pulses, boost their production, consumption and trade and encourage new and smarter uses throughout the food chain.
According to him, his ministry designated the Food Technology Service Unit under the department of Agriculture will work with FAO and other stakeholders to organize awareness raising activities to mark the year.
He said that the food fair forms part of the activities and a nationwide sensitisation campaign on pulses will be spearheaded by the department of Agriculture and will be undertaken in the near future to promote the crop in the country.
"Agriculture and food systems must become more resilient, productive, inclusive and sustainable," he said.
He added that the Gambian government has and will continue to put in place the requisite police, legal and institutional frameworks to transform the ANSR sectors to respond to the challenges facing the sector; including climate change.
Read Other Articles In Article (Archive)