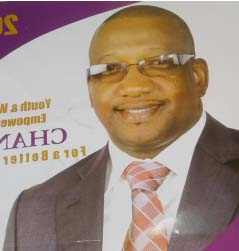 Mamma Kandeh, leader of Gambia Democratic Congress, has told a large crowd of people in Ngain Sanjal in the North Bank Region that he is fully prepared to take the seat from President Jammeh, come December 1, 2016.
The GDC leader, who was addressing thousands of people attending his meeting, said the people of this country need a change, which will be realised this year.
GDC, he added, is in The Gambia for change, and "if we are voted into office we would make sure that all those who lived in this country, in one way or the other, would be allowed to come back.
Mamma Kandeh said power comes from the people, adding that "come December 1st when we come into power, all those who were dismissed from their positions unlawfully would be asked to come and continue to serve the country".
In the area of health, Mamma Kandeh told supporters that providing hospitals without medicine is not the solution, adding that when GDC comes to power that would be a thing of the past.
"We would not build hospitals without medicines, and will bring quality doctors to run the hospitals and would also introduce health insurance."
In agriculture, the GDC leader told supporters that the same system of farming has been in existence since colonial times.
He said the President's Vision 2016 is a good idea, but it is not easy to maintain because it needs a lot of money.
In Farafenni, Mamma Kandeh was welcomed by a huge crowd from the entry point of the town, with people shouting that "APRC rule is over".
Thousands escorted the GDC leader, assuring him that come December 1st they would vote for him "massively", because the APRC government has failed the whole country.
Read Other Articles In Article (Archive)