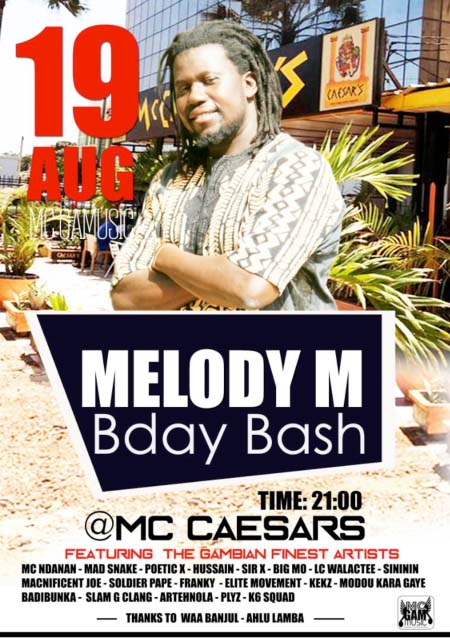 Melody M, one of Gambia's super stars when it comes to cultural music, has said he did not quit music contrary to rumors spreading in town that he stopped singing.

Melody did a song praising the former President and his leadership.
He appeared in lot of platforms and stages of the former president.
When the former president, left many people believe that most of his praise singers also quit the industry.
"I did not quit music, I had an accident sometime ago and over one year I was battling with my health, that's why I went a bit silent. Music and culture is part of me so I see no reason why I should quit music."
About the last regime, its true that I did a song for the former president but that is just one song out of a whole album, also what I said in the song its not praise singing but the reality.
"I am never an opposition. If President Barrow impress me why not, I can also record a song for him, I am just an artist".
Melody called on his fans to join him this Saturday at MacCaesers' for his birthday bash.
He said his welcome to the music industry again after a long break would be in a form of a show at MacCaesers tomorrow Saturday 19 August.
"I'm calling on all my Fans to join me this Saturday at MacCaesers for my birthday bash. I will be joined by my colleague artistes, who are ready to perform with me. It's a free show and all my fans are invited to attend."
He thanked his family members, friends and loved ones for the support they have been rendering.
He also extended gratitude to the management and staff of MacCaesers who gave him the venue and supported him in a lot of ways for him to stand up again and continue his journey as an artiste.
Read Other Articles In Article (Archive)