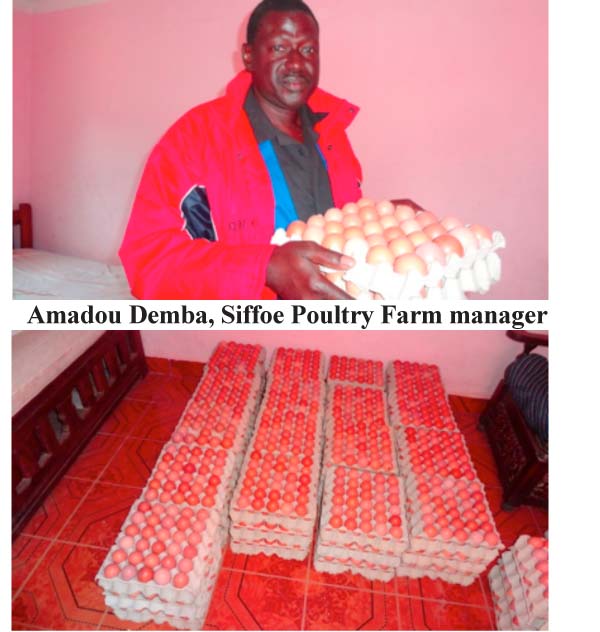 Amadou Demba, Siffoe village Poultry Farm manager, has said poultry production is the fastest growing business in attaining food self-sufficiency in agriculture.
Mr Demba made the remark in an interview with The Point agricultural columnist over the weekend at his home village in Siffoe in the Kombo South District of the West Coast Region.
He said he joined the poultry farming since he was about seven years old, because of the huge benefits attached to poultry production, as well as being the fastest growing business in attaining self-sufficiency in food.
According to Mr Demba, he first started with some chickens that he reared at his compound backyard, and later went into sheep fattening and then to cattle rearing.
He said poultry farming is very important and is not difficult to manage, it only needs concentration, adding that his animal is his friend and asset.
He said if you have a chicken within three months it can start laying, and every year you must realise about three hackies, adding that every hack is equivalent to a goat or sheep.
He said in terms of commercial poultry farming, he entered into the business in 2002, with a small business project of only one hundred and fifty layers.
"I was able to manage them until I have about two thousand five layers," he said, adding that sometime the business grows up and down because of the changes in stock.
Regarding the broilers, he used to have about four thousand up to six thousand, which was a development move. 
"I think poultry production is the best way and easiest way to get food self-sufficiency, because in a broiler you can rear for forty-five to fifty days maximum," he stated.
To attain self-sufficiency in poultry  production is very easy, he said, but lamented on the lack of a market as nobody wants to start a business and run into loses.
He said most of them are into the business, and could not leave it because they have been in the production for a long time now.
He said they want the government to intervene because of the imported eggs and meat; it has affected the local poultry industry.
According to Mr Demba, taxes also are one of their major constraints, because agriculture is not only the growing of crops, but rearing of animals as well.
He said agricultural inputs are indeed free, but for livestock inputs they pay taxes when they bring feed from Senegal, adding that they would be charged to pay 1.55 per cent.
He said the importance attached to the poultry production could not be overemphasis, because it is through poultry production that he feed his family and helps other families.
He said poultry is a gainful self-employment, adding that through poultry production he employed some people and is paying them.
He said regarding sources of funding,  he did not have funding but loans, adding that sometime back he took a loan from SDF to improve his production.
He said currently he is working closely with the Reliance Financial Services, which is financing him to improve his production on a loan with interest.
His message to Gambians regarding poultry production is that they should try to be involved in poultry farming, especially in animal production.
He said if you go to the neighbouring countries like Senegal, you would find out that in every compound there is a sheep or goat that they are rearing, and those are the animals that they use on their occasions and the surplus they bring it to The Gambia and sell it.
"I would like all Gambians to invest in poultry production, and we want more investors to invest in poultry production."
Read Other Articles In Article (Archive)