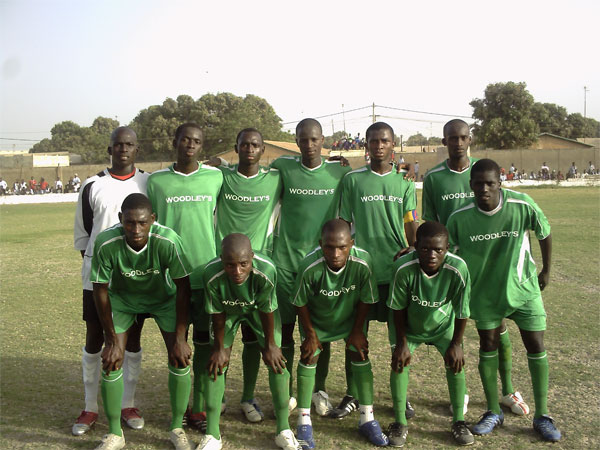 The dynamic and versatile coach of last year's newcomers in the league, Mr. Jane Joof, was full of praise, for the strong performance his team put up against one of their bitter rivals Wallidan in this year's curtain-raiser fondly called the Super Cup.
The soft-speaking Jane Joof claimed that his boys tilt for glory will continue to the end of the season, putting into consideration the esteem within camp in Samger as a motivating factor that will spare no team in the coming season.
Mr. Joof who has just returning from abroad explained that he had availed himself of a lot of skills in England and is duly ready to instill these in his youngsters in preparation for the coming season. "I learned a lot from the English who are always in line with modern football. Some new technical skills and game plans will be given to my youngsters," he continued.
Mr. Joof made this statement in a post match interview in Brikama on Sunday, when the double cup winners Wallidan and Samger were brought under the spot-light in the Super Cup Final at the first artificial turf at Brikama. "In football I am never discouraged. From the outset I know Samger will beat Wallidan as we dominated the first half," claimed Mr. Joof.
The impressive performance displayed by Samger in the Super Cup by the youngsters, Mr. Joof maintained that it will be continued for the rest of the season, since the team has collectiveness and commitment.
Samger defeated Wallidan 2-1 in the Super Cup with goals from Lamin Samateh and Ousman Jallow. Wallidan's lone goal was scored by the team's craft man, George Cole, who missed a pivotal injury time penalty for his team.
The match, which was dominated by the whistle of the referee, saw two red cards to Ebrima Camara of Samger and Muhammad Kona of Wallidan. The Samger goalkeeper was his team's saviour after he saved George Cole's last minute penalty and Captain Ebrima Camara skyrocketed Samger's spot kick.
Fixtures for the coming week are
Friday 20 February 2009 A/force VsSeaview 4.30 S/k west.
Friday 20 February 2009 Bakau United Vs Samger 4.30 S/K east.
Sat: 21 February 2009 Hawks Vs T/United 4.30 Brikama.
Sat: 21stFebruary 2009 Gamtel Vs Real4.30 S/K West
Sun:22/02/09 Bri/United Vs Africell/S/Matty 4.30 Brikama
Sun:22/02/09 WallidanVs Steve Biko4.30 S/K East
Read Other Articles In Article (Archive)