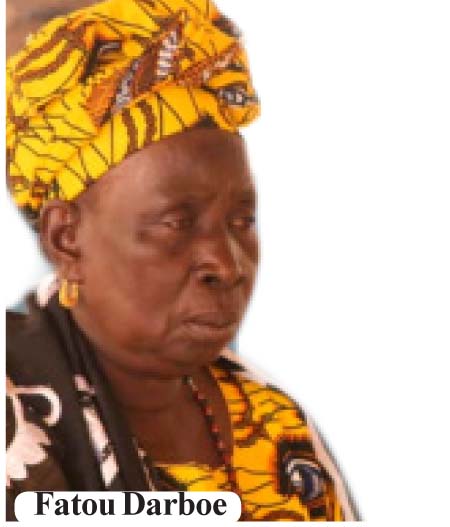 A native of Sintet, who testified before TRRC's regional hearings in Sibanor, disclosed that during her detention in Kanilai, she admitted to eating two people just to be released.

Fatou Darboe, a victim of the infamous national witch hunt ordered by the exiled former Gambian leader, Yahya Jammeh claimed that during her detention in Kanilai, they were told that if they didn't admit that they killed someone, they would not be released.
"I insisted for two days, I had no choice but to say I eat two."
Recalling the infamous episode which happened on a Monday 2009, Fatou stated that she was informed about the arrival of the witch hunters, but maintained that she preferred death to drinking their concoctions.
"The information I got was that former president Yahya Jammeh gave an order to identify witches and wizards and give them concoctions to drink. I saw a man in red and two other armed soldiers. As I was about to pass them, the one with mirror pointed at me and asked the soldiers to take me to the bus."
Darboe, who is the mother of former GRTS journalist, late Kebba Dibba indicated that during the incident, she recognised the presence of the paramilitary personnel.
"The bus was filled with only old women. The young people were there but they didn't capture any. The old men also filled two vehicles."
Mother of seven, Fatou maintained that those who refused to comply with the witch hunters were beaten.
On arrival in Kanilai, Fatou Darboe asserted that she alongside others, was taken to Yahya Jammeh's military camp; saying the soldiers told them to remove their monies and phones and hand them over.
She told the commission that they were given concoctions to drink.
"Dajang Touray who was the first to be given the concoction fell down unconscious. He died the same year and we believed it was as a result of the concoction."
The witness admitted that after drinking the concoction, she was unconscious, further explaining that when she was ushered into the room to drink the local concoction, a soldier asked her to undress.
"When he asked me to be naked, I agreed because I was afraid. I took all my clothes off, just like how I was born. He poured water from my head and bathed me. He gave me one litter of that concoction with leaves to drink. I think the water was mixed with 'kubejara', which tastes very bitter."
Further explaining, she disclosed that before they were released, the witch hunters asked them to name whom they had eaten. In reply, she maintained that she is not a witch and she did not know what a witch is.
She told the commission that they were asked to admit to be witches before they were released from detention in Kanilai.
"I was detained for two days and I wanted to be released, so I told them I ate two people. Then that was the time I was released."
Read Other Articles In Article (Archive)