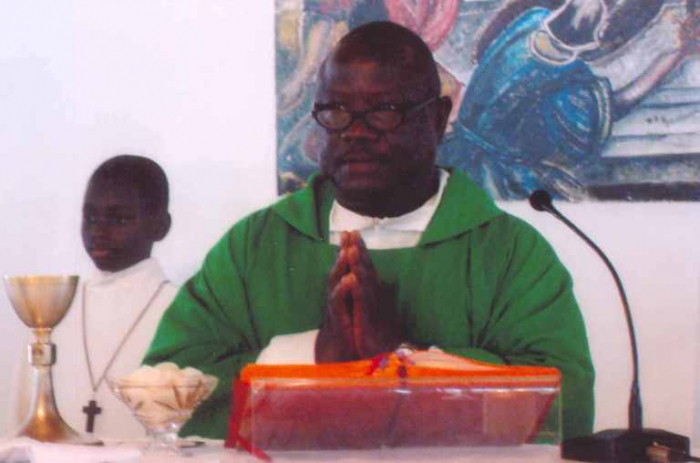 Humility was the theme of all sermons of the Catholic Church this past Sunday. Humility is the king of all virtues of human living as portrayed by Jesus Christ Himself who said mankind should be humbled so that he could be lifted up. He cited lots of examples to qualify what he was talking on. Reverend Father Joseph Kamanda, who comes from a humble family from Sierra Leone, spoke in his sermon at the Resurrection Catholic Church in Brikama on Humility. Humble yourself before the Lord. Humility in its totality is analysed below by Panorama.
Rev. Fr. Joseph Kamanda otherwise known as Fr. Joe Kay, is a senior priest in Sierra Leone of the Freetown and Bo Diocese.
He is a classmate to Fr. Tony Gabasi and Fr. Peter Gomez. Fr. Gabisi is gone on vacation prior to his studies in Nigeria. Meanwhile Fr. Joe Kay came to over see the Brikama Parish till the priest assigned there is in town to take over the parish. Fr. Joe Kay has a sister who is a Rev. Sister called Sr. Josephine Kamanda of the Cluny Sisters at Kanifing responsible for formation of that congregation.
In his sermon, Fr. Joe Kay said in last week's Gospels that Jesus had said that they needed to go through the narrow door. "We need to go according to the scriptures," he said.
One of the characteristics of a proud person, he said are diverse, saying last Sunday's homily is a continuation of today's homily.
What does it mean to be a humble person? He asked. He said the three readings of the Gospel talk about humility. "We are not God but we are made by God. It also means I should not over estimate my own importance because it also has a negative effect. It shows that we don't depend on God and when we think like that it means that we don't depend on God. Because as sons and daughters of God, we don't care about God," he said.
Looking at the three readings, Fr. Joe Kay said that the first reading states that the greater you are the closer you should be to God. "To recognise that whatever you are or have and whatever position you have comes from God. There is no remedy for a proud man's sickness. To God being proud is sickness. To say this man does listen to anyone is a sickness. From the first reading we take these advice
-           That you should be humble no matter your position.
-           That it is sickness not to be humble.
What we have gone through is from God. Now we are told everyone is the first born and citizen of Heaven, God is a parent to us and if he is my parent then I have to be humble to Him to teach me his precepts" he said.
In line with the Gospel, Fr. Joe Kay said someone invited Jesus to his house. All those who came tried to take all the seats and he said to them in a parable, "When someone invites you to a party do not take the best seat rather take the lowest place and the person who invited you will give you the best pace to sit.'
Allow others to recognise your importance, don't impose on others, it is not good for a child of God," he said. When you hold a party Fr. Joe Kay says, "Don't invite the rich to a party who will pay you back, but invite the lame, cripple and the poor who won't pay you in return. We should not do it for what you will receive back but for God's sake.
Fr. Joe Kay said the greater we are, the more humble we should try to be. "In the Gospel Jesus gave us a very good advice. He says 'When they invite you do not take the best seat, you may be embarrassed. See others as your brothers and sisters. May God bless you," Joe Kay said.
Read Other Articles In Article (Archive)