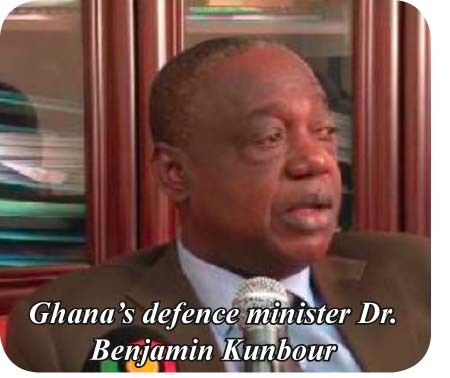 Military chiefs in West Africa on Tuesday began a three-day meeting in Accra, Ghana, on security concerns affecting the sub region.
High on the agenda are the Ebola disease threat and its security implications, the Boko Haram insurgency in Nigeria, the political situation in Mali and Guinea Bissau, Al Qaeda threats, issues of piracy and maritime insecurity.
The meeting, which is the 34th ordinary meeting of the ECOWAS Committee of Chiefs of Defence Staff, is on the theme: "Strengthening ECOWAS Military Cooperation for Peace, Stability and Development."
Opening the meeting, Dr Benjamin Kunbuor, Minister of Defence, expressed the need for effective collaboration to address the Ebola threat, and called on the Service heads, to use the forum to discuss how they could assist the civilian population to strategise towards stemming the spread of the virus.
He added that Ghana is following with keen interest the progress in the handling of the Ebola threat, hence the making of the country the distribution point for the supply of Ebola support by the current ECOWAS chairman, President John DramaniMahama.
He urged the participants to bring their experience and expertise to bear on other threats, such as child and drug trafficking, and the proliferation of arms and light weapons.
Vice Admiral Mathew Quashie, Ghana's chief of defence staff, who takes over as head of the committee from Ivorian chief of defence staff General SoumailaBakayoko, said there is the need for a multifaceted approach to deal with Al Qaeda in Islamic Maghreb threat through building on ECOWAS counter terrorism capabilities.
He said the ECOWAS security apparatus must also ratify, domesticate and implement relevant international protocols on counter-terrorism in the sub-region.
Additionally, ECOWAS must build on co-operation in the area of intelligence, investigation and prosecution, he said.
He added: "It is the responsibility of the ECOWAS Commission, the national task forces and the role of our partners including the UN, AU, Interpol, civil society and development partners to work towards implementing the ECOWAS counter terrorism strategy."
MrsSalamatuHussani Suleiman, ECOWAS commissioner for political affairs, peace and security, reported that significant progress had been made in stabilising the political situation in Guinea Bissau, and the presence of the ECOWAS mission in Guinea Bissau had enhanced the security profile of that country.
She announced that an inter-regional maritime co-ordinatingcentre would be inaugurated in Yaoundé, Cameroun, next Thursday, as part of an overall strategy in addressing issues pertaining to the escalating threat posed by piracy and maritime insecurity.
Brigadier-general Mamman Lai, outgoing chief of staff of the ECOWAS standby force, who served the community for seven years and vice Admiral Quashie, were decorated at the opening ceremony. 
Read Other Articles In Article (Archive)