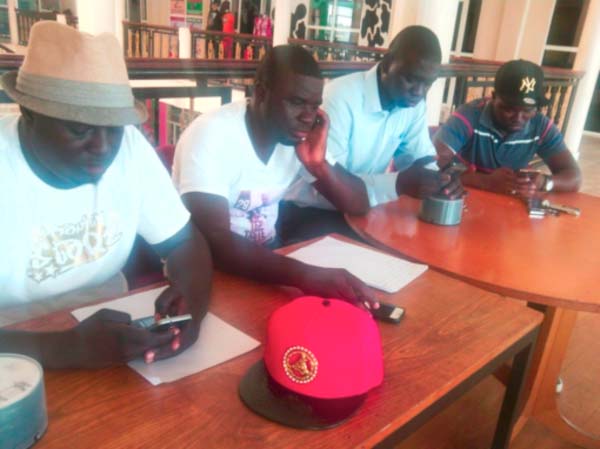 As part of taking the Gambian music to the outside world, Humanity Starz has made another wave by releasing a ten-track album entitled 'After Test'.
Humanity Starz is a music group comprises talented Gambians between the ages of 18 and 30 who have ventured into music as their source of living.
The Humanity Starz, a group of 15 people, has made big difference in the Gambia music industry. The group, as known by many, works tirelessly to produce quality Mbalax music and also achieve lots of popularity in The Gambia and beyond.
Speaking at a press briefing held at Tippa Garage over the weekend, Mbaye Bittaye, manager of Humanity Starz, said Humanity Starz is 12 years old this year and only plays live music. Adding that Humanity Starz being the youngest live band with quality and variety of music played, the band is well recognized not only for amazing lead vocal Alieu Badara but also for being able to back performances of various artistes from different music genre.
Humanity Starz is today releasing its new album the third Mbalax album called 'After Test'.
Mr Bittaye thanked Africell for financing the album all the way to Senegal where it has been recorded.
"Though it was not easy, because we targeted one of the best recording studios simply because we want something qualitative," he said.
"We want to show the whole world that Humanity Starz plays live music and is here to say. When people talk about the history of mbalax music in The Gambia, Humanity Starz would not be left behind."
Humanity Starz was established with vocalists and backed with different artistes.
Alieu Badara, lead vocalist for Humanity Starz, said: "Today we have lunched another major development in our carrier and we call the best album produced by a Gambian band.
"The road to the achievement of the production of this album was tough recognizing the fact that it was difficult because it took us three to four years to produce our third album called 'After Test'.
Badara thanked Africell for always supporting Humanity Starz to produce quality music.
Pa Modou, a member of Humanity Starz, also chair of the meeting, said Humanity Starz is a young talented music group that is specially playing its roots in The Gambia making music at all levels of lives as well as providing music to every generation in The Gambia.
Speakers on the new development included Musa Ceesay, Public Relations Officer and consultant.
Africell also commended Humanity Starz for releasing another third album, which is presently making waves in The Gambia and beyond.
He said Humanity Starz is a Gambian owned band and we should support them at all cost, adding that Africell has been supporting Humanity Starz and would continue to support them.
Read Other Articles In Article (Archive)