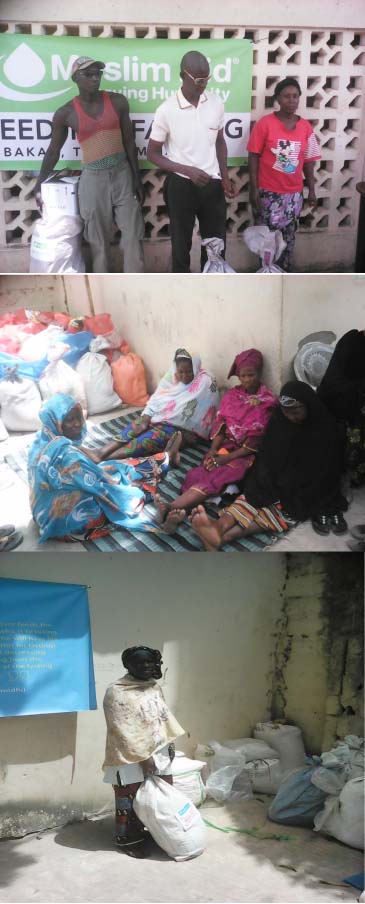 Muslim Aid in collaboration with Africa Relief Response of Development Organisation (ARRDO), yesterday, donated food packs to 150 households in Bakau New Town.
The packs included sugar, rice, beans, and onions and the size of each pack depends on the number of inhabitants in a household.
Muslim Aid is a UK-based charity and development organisation involve in helping the poor and children.The organization has series of project in The Gambia and every year during Ramadan and Tobaski, they extend helping hands to the needy in the country.
ARRDO is also a community-based organisation and the collaborating of Muslim Aid in The Gambia.
Ansumana Dibba, director ARRDO, said the donation of food packs is under a programme they called 'Feed the fasting'.
"We want to thank Muslim Aid for their continuous support and collaboration with ARRDO," Mr Dibba said.
He explained that recipients of the pack were selected based on community consultation and the observation of the organisation's officials.
Dibba said ARRDO aims at responding to emergencies and to initiate development works.
"We believe that communities have assets, liabilities and potentials for growth but these can only be utilised when they are engaged in community works and take the forefront of their development activities.When there are gaps in their endeavour, we as ARRDO come in to fill that gap in the development process," he said.
ARRDO director said the objectives of the organisation include ensuring that communities have community-led development initiatives.
"We help communities to take the lead in the development of their own activities in the health sector, agriculture, education and other critical sectors," Mr Dibba explained.
Apart from providing food packs to communities, Mr Dibba said they also ensure that children have access to education without any financial burden on their parents.
"We address the needs of the orphans so that they can have quality education," he affirmed.
Also, water and sanitation is another important area that ARRDO consider for support.
"We want to ensure that communities have access to clean water and their environment, cleaned," he said.
ARRDO in collaboration with Muslim Aid in the past years has rehabilitated and completed 12 boreholes across The Gambia.
"We receive a token of 5,000 pounds sterling from Muslim Aid on behalf of the poor and needy in The Gambia.Last year, we targeted 100 beneficiaries and this year we are targeting 150," Dibba said.
He explained that it does not mean that the recipients of the food pack are desperate or has no assistant.
"All those who are assisted are poor but they have dignity and they are trying to make their own survival.This food pack is just to complement whatever activities they are doing to survive," he explained.
A beneficiary, Alieu Bojang, a resident of Bakau New Town, said he felt very happy with the support because "it came at the right".
He thanked the donors, saying such help in the Ramadan can only be rewarded God and God will surely reward whosoever has a hand in the donation.
Mama Sira Dibba said ARRDO has improved the living standard of her household because it has been sponsoring her daughter's education and health since she was a baby.
"I personally know the impact this organisation has on the lives of women and even men.It is a live changing organisation that is here to improve the lives and livelihood of people," she said.
Read Other Articles In Article (Archive)