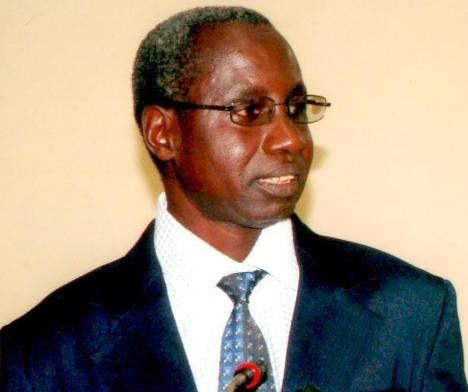 "As I said earlier, the full GRA story will be told, and as they say from the Horse's Mouth. Therefore allow me Mr. President, distinguished ladies and gentlemen to call on one of them, Our Commissioner General Momodou Kabba Tambajang to deliver his statement. But just before that, let me very briefly introduce Mr. Tambajang. Here is a man so soft-spoken that you barely hear him even if you are one metre away. But that is where the paradox is. Because this man has the mettle and the charisma of a leader that inspires, motivates and generates love and happiness in his staff. Not for anything but because of his humility of character, firmness of mind and strength of decision making. He said with the creation of GRA that business will never be as usual, but that the core business of GRA, which is revenue collection, will never be compromised; rather revenue collection shall continue to increase in order not to only meet government targets, but to exceed it. This is why GRA has vowed to operate on international standards and adopt a corporate culture that thrives on professionalism, integrity, teamwork and knowledge. Mr. Tambajang you have the mike…"
The above quote was delivered by me during the inauguration of Revenue House on 21 July 2008 as the MC of that grand event.  Having worked closely with Kabba Tambajang as Head of Public and Corporate Affairs for two and half years, his demise has hit me like a thunderbolt. As I try to attune myself to this most unfortunate and untimely reality, I would like to say at the outset that the passing away of Tambajang is a national tragedy of far reaching consequences. This is more so given his leadership qualities and the significance and role of the institution he left behind. I can confidently say that the destiny and development of the Gambia is intertwined with the effective and efficient functioning of GRA. The Gambia Revenue Authority is the most important and strategic national institution which provides 80% of government revenue. The contribution and the smooth operation that GRA is experiencing since its inception in 2007 were to a large extent to the quality leadership and management that was provided by Kabba. Being in charge of public and corporate affairs, my role was to serve as his eyes, ears and voice as we embarked on building an image and culture that seeks to create an institution of excellence thriving on international standards of professionalism and best practice. On a daily basis, I had early morning and late afternoon consultations with him and I was privy to the huge challenges and load that were placed on his shoulders. I must confess that I do feel pity for him sometimes for I saw a man who has a strong faith in God and has the best intentions for all and sundry, yet had to face daily vibrations and demands from within and without for reasons I cannot just fathom. But Kabba has never lost his cool and focus. I remember very well a few days before the inauguration of Revenue House, and I was in his office one morning as I updated him on the level of preparations. While I was concerned about a number of tasks that were not going as fast I wished and I needed his influence to make some people move faster, he gave me that signature smile of his and told me to calm down and everything will be fine. I looked at him and reminded him that we are only a few days from the event. He never looked worried but continued to give me more encouragement and smiles. Then I thought I needed to share other news with him because as his 'eyes and ears', one of my tasks was to pick the feelings of staff and the public and share these with him in order to chart a way forward. At the time, there were very strong and widespread rumours that Kabba was going to be sacked even before the inauguration. But he told me,
"Madi, I know all that is being said. I have heard them.  But am not worried. I only believe I am here for a time. I have faith in Allah. All I am interested in is to do the right thing and fear no one. I am fine".
That was indeed reassuring for me. And this is where I think that his demise is a national tragedy. Kabba's passing away has posed a fundamental challenge and question. 'Who will fill his shoes?' I sincerely believe that no one is indispensable, but am not oblivious to the fact that an institution of GRA's stature requires a leader who is not only honest, God-fearing and humble, but that GRA also needs a leader who is focused, has a steady mind and is decisive – a leader who is not mesmerized by vanity and the frivolities of life; a leader who realizes that he has a mission to fulfill. Having worked with him for that time, and knowing the intrigues and innuendos that do take place at GRA like any other Gambian institution, Kabba would have been a disaster and GRA a mess if he was merely another CEO who is more occupied with worldly tastes that fame, power and money can easily buy. Through his leadership, he refused to be pulled towards any direction except what is in the best interest of GRA and the Gambia. He refused and rejected factionalism and petty squabbles. I had never felt more proud and amazed of his strong leadership qualities than at senior management meetings were he would demonstrate such firmness and decisiveness over and above senior colleagues. I can vouch that Kabba was incorruptible and no one could exploit your closeness and friendship with him as he treated all GRA staff as equals and the same. He is fair, honest and transparent with his staff. He denies no one his or her dues and entitlements, and no one can claim to have been marginalized by Kabba in the course of his stewardship. He listens to every word and allows everyone to have his or her word even if that word is to criticize him. He takes no offence, and delivers none. I have never seen him humiliate, downplay or disregard a member of staff. He values human beings and creates the space for everyone to prove oneself. He is dedicated to work and family. He is renowned for being a loving husband and caring father. Indeed Kabba is the epitome of the virtues and values that constitute humanism, humility and honesty as exemplified by all the sages and wisdom of the Books!
Kabba's humility can be manifested in so many ways. In the first place, one would have imagined that as Commissioner General of GRA, he would be living in the usual posh areas of the Greater Banjul Area. But no! Kabba lived with the masses in Jeshwang, among ordinary and humble men and women who live on the sweat of their brows. I understood that he even bought Wellington boots just to allow him to cut through pools of water on his way home during the rains! At the popular May Day sports, Kabba was one of the very few heads of institutions who would arrive at the stadium so early and will never depart until the last whistle was blown. He does not sit up in the pavilions but rather squeezed with the rest of us on the grounds. I do remember on many occasions, Kabba would leave his vehicle in the office and walk on foot to Quadrangle to attend meetings. One time I was invited with him to the launching of the Gambia Manufacturers Association on Kairaba Avenue, together with James Johnson, and to our utter shock, we saw the man walking along the avenue from his house to the venue. This is a distance I would probably never walk; at least not when I am the Commissioner General of the Gambia Revenue Authority, which gives more resources to the Gambia than any other institution. When I confronted him for such incomprehensible behavior, he just gave the same signature smile of his and said it is good to walk sometimes and for him the distance is not far. Again I remember when we participated in the May Day sports for the second time in 2008, we organized a reception at Paradise Suites Hotel to celebrate our success and honour our athletes.  That was the same day that members of staff went to do some farming in Kanilai only to return late in the evening. When he called me on his way, I told him we were at the hotel waiting for his opening statement. Tired as he was, he readily told me that he was just going home to shower and join us. He did just that within fifteen minutes.
The examples of humility and leadership quality of this exemplary man are uncountable. Sometimes one is forced to ask, 'where is the soul of the Gambia?' 'Does any conscience ever exist in this world'? My answer is yes! It is Kabba. He is the embodiment of the soul and conscience of humanity! While many wished to gain the world only to lose their souls and place their conscience on the altar of greed and dishonesty, Kabba has demonstrated to Gambians that one can maintain your soul and your conscience and fulfill your dreams at the same time. I feel very proud and honoured to have worked with a man of his caliber and excellence. I have worked in many institutions and with many leaders, and many more are to come, but surely I place Kabba in a completely different category of leaders. He is not an extra-ordinary man of letters; neither is he a man of many words. But he is cultured, professional, simple, down-to-earth, humanistic and loyal to those virtues that have always produced great leaders of the times! In Kabba the milk of human kindness flowed unabated. He was the very salt of the earth.
The staff of GRA have a big task now. Yes, we may agree that a lot of them will weep and moan. Many of us will mourn for one year in showing our respect and love for Kabba. But the question is, if we are genuinely weeping and mourning, how do we pay homage to this man? For me this is the time for each and every GRA staff to live the life of Kabba in practice. If you love Kabba and appreciate his leadership, this is the time that in your work you demonstrate professionalism, integrity and fairness as these are the core values of GRA which Kabba lived for, by and died for. If we allow standards to drop at GRA then we will be betraying Kabba. For those who will take the decision to find a replacement for Kabba, my advice is that let Kabba himself serve as the yardstick for the selection of the next Commissioner General. GRA needs a 'Kabba' who will continue to mould the staff into one family; a person who will jettison patronage and favoritism; a person who will respect and love the staff; a person who is just good and honest.
Momodou Kabba Tambajang is that person that Kwame Nkrumah calls the 'African Personality' that will salvage and create the New Africa –
"Africa needs a new type of citizen, a dedicated, modest, honest, informed man and woman who submerge self in service to the nation and mankind. A man and woman who abhor greed and detests vanity. A new type of man and woman whose humility is his and her strength and whose integrity is his and her greatness."
On 9 June 2007, GRA organized a cocktail reception to celebrate its remarkable successes in its first May Day sports where we emerged second. In his thanksgiving speech to the staff and friends, Kabba uttered these words,
"As I said earlier performance will be rewarded, but certainly poor performance in whatever form shall not be encouraged. Our corporate culture is to re-brand ourselves as high standard professionals and experts by the quality of our work and comportment. Let me say that we can only build and maintain public confidence in our tax system if every contact with the public reflects high ethical standards and our commitment to perform our work conscientiously, courteously and effectively. We need to bear these values in mind and demonstrate them in our work every day; for as you all know a corrupt staff or officer can seriously pollute the valuable contribution of the authority. Henceforth there is now no room for poor performance, corruption and laziness".
You ran your race Kabba, and you ran it in style. We hope you are in a better place. May Your Soul Rest in Perfect Peace! Amen.
Read Other Articles In Article (Archive)