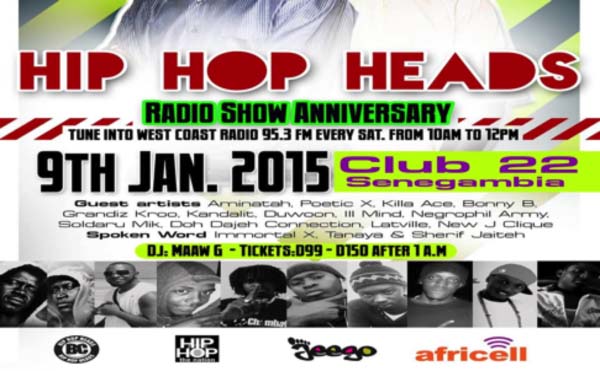 Bundung Central Entertainment Movement will be marking the one year anniversary of 'Hip Hop Heads' Radio Show on 9th of January 2015 at Club 22 Senegambia.
Featuring Gambian artistes like Aminatah, Poetic X, Killa Ace, Bonny B, Duwoon, OG Log, Grandiz Kroo, ILL Mind, Str8 Frm Jupiter, Latville, Negrophil Army, Soldaru Mik, Doh Dajeh Connection, New J Clique and many more; Spoken word artistes: Immortal X,Sherif Jaiteh, Guest Djs: Maaw G & Dj Y Dee from Senegal
Hip Hop Heads Radio Show was brought to West Coast 95.3 MHz last year January 4th by Sanna Kanteh, known by his presenter name 'Brother Zee', to elevate the real essence of Hip-hop music as opposed the mainstream popular culture.
A few months later, he brought Sir X to be co-host in the weekly radio show that airs every Sunday from 10 am to 12 pm. Now the show has grown to be among the avenues that explores the Hip-hop culture; promotes and inspires local Hip-hop artistes to boost their perception of the positive side of Hip-hop.
Read Other Articles In Article (Archive)