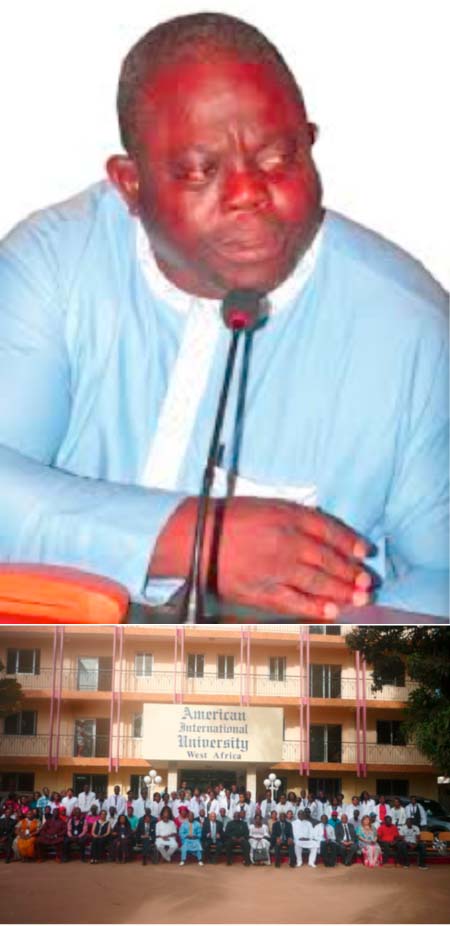 Professor Aboubacarr Senghore, Minister of Higher Education, Research, Science and Technology, has said his ministry is very much aware and appreciative of American International University's commitment towards President Yahya Jammeh's directives to build capacity for qualified health professionals in The Gambia.
Prof Senghore, who was speaking during the 4th White Coat Ceremony of 33 incoming medicine students, held at the AIU campus yesterday, said the government recognised with gratitude the valuable contributions the AIU is undertaking in ensuring that quality higher education in the country is delivered, most notably the provision of full tuition fee scholarships to many qualified Gambian students.
Hon. Senghore also commended and congratulated the AIU president and his team for their laudable achievements, and assured the university of his ministry/government's support and cooperation in ensuring that quality education is delivered.
He further assured students of the university that government under the leadership of President Jammeh "shall continue to create the enabling environment as amply anchored in his slogan 'For education, the sky is the limit'."
While congratulating students for the heights they have so for attained in the education ladder and their career, he urged them to take up the challenges and make best use of the opportunities they have to learn further.
Hon Senghore quoted Sir William Osler as saying, "The practice of medicine is an art, not a trade; a calling, not a business". "You have answered that call," he told the students.
"A clean white coat makes such a difference in the care of your patients," he said. "My advice is: keep them clean. Wash them often. Avoid pocket stains and consider having a spare coat available for that morning when you spill your coffee on your sleeve. Your white coat is important to your patient care."
Medical professionalism signifies a set of values, behaviours and relationships that underpin the trust the public has in doctors, he stated, adding that medicine is a vacation in which a doctor's knowledge, clinical skills, and judgement are put in the service of protecting and restoring human wellbeing.
He said the curriculum at AIU is exciting and he has no doubt that each and every student will thrive in it, as they "will be well prepared for every challenge along the way".
Hon. Senghore also said he would continue to look forward to a fruitful cooperation between AIU and his ministry in the provision and dispensation of quality higher education in the country.
AIU president Dr Dinesh Shukla, in his remarks, said they had been able to comply with their responsibility of educating more than 10% of Gambians, free of charge.
He said their success can be attributed largely to the guidance, wisdom, vision and support of one person – President Jammeh. He said he would, therefore, thank the President for giving them an enabling environment to realize their aspirations of providing quality education.
"The mission and vision of the university is to provide world class education, to make true professionals in their respective fields of study and to cultivate the next generation of world leaders," he pointed out, saying they strive for academic excellence with both ethics and professionalism, to become a positive influence to the society.
Saffie Lowe-Ceesay, permanent secretary at the Ministry of Health and Social Welfare, and Dr KantiSolanki, Dean of College of Medicine at American International University, both spoke briefly on the occasion.  
Read Other Articles In Article (Archive)