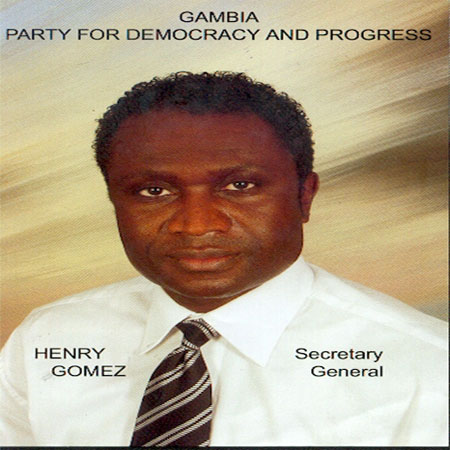 Henry Gomez, the leader of the opposition 'Gambia People's Democratic Party' (GPDP) has once again called on Gambians to be united to make this country the best place.
He posited that having different ideologies should not make us enemies.
"Let us all join hands and build this country," he said.
" I was in the provinces not long ago and I have realised that they are improving on the road networks. They are really building the roads.
"I am thanking the Executive and all those who are involved in one way or another in making this country a Silicon Valley," he expressed.
Mr. Gomez was speaking in a short interview with this paper yesterday.
Commenting on the tour of the President, Mr. Gomez said it should not be seen or considered as a 'political tour'. He maintained that it is a constitutional obligation for the president to go round the country annually, especially the provinces to talk to the people, discuss with them to have first hand knowledge about their problems and also to determine the state of the country's infrastructure.
"I am praying for him to be able to fulfil all what he promised and intends to do for this country. He has done a lot, but there's a lot more to be done," Mr Gomez asserted.
On the ongoing streetlights project, Mr. Gomez said it is a welcome move, noting that it will change the shape of this country. He added that it is also going to offer more security to the country and indeed reduce accidents on the roads.
"It is a real joy for every Gambian," he remarked.
In conclusion Mr. Gomez congratulates President Jammeh on the occasion of his 44th birthday anniversary.
"I am wishing him long life, good health and happiness.
May Allah, the Almighty shower him His blessing. May God bless The Gambia!" he exclaimed with much gusto.
Read Other Articles In Article (Archive)