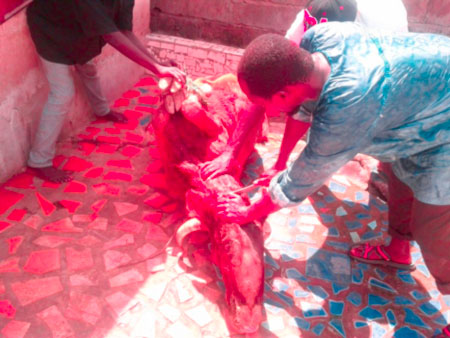 An association called "Soppay Nyuni Nenla'" over the weekend donated a bull to forty Muslim women in Serrekunda as their contribution in recognition of the Muslim Tobaski feast.
The gesture which was the second of its kind since the inception of the association last year, was supported by an International Humanitarian Relief Organization based in Turkey.
It would be recalled that the association distributed two bulls to the needy within that particular neighbourhood last year Tobaski through its Turkish donors.
The president of the association, Fatou Jobe, told The Point that their main aim is to support the poor and the needy within the neighborhood, especially during Muslim feasts.
"Our aim is to support the poor and the needy who find it difficult to meet their needs, especially during such religious feasts," she announced.
She added that in Ramadan they distributed food to many Muslim families within the neighborhood, as well as engaged in other social support activities.
She said they would strive to continue the gesture of helping the needy, as long as they continue receiving support from donors.
They were able to support the people concerned through their monthly contributions, as well as support they have from their donors, Ms Jobe continued.
Through their membership contributions, they do extend support to needy students, especially the girl-child so that they do not get stuck in their education due to financial constraints.
"We find it sometimes difficult to meet some people's requests as they come to seek help from us compare to the little we have, which I see as a huge challenge on us," she said.
However, she added, they are doing all they could to make sure that the poor and the needy are well supported.
She thanked the International Humanitarian Relief Organization and its country representative, Musa Jallow, for their continued support.
She also appealed to other philanthropists and NGOs to emulate the donors.
The mother of the association, Aji Jalang Kora, said the association came into existence through a general membership agreement on working together to ensure that they contribute their quota in socio-economic development through various activities.
"We as an association try to help the sick, and to resolve disputes among families within the neighbourhood," she said.She commended the general membership for their contribution to helping the needy. 
Read Other Articles In Article (Archive)