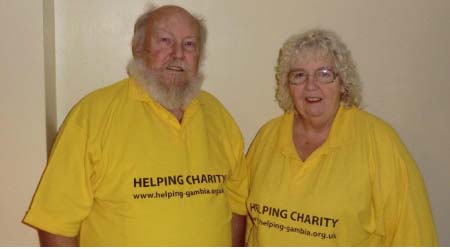 HELPING, a UK registered charity known as Help for Education and Local Projects in The Gambia, has been doing a fantastic job in the country over the years and further hope that soon in 2014, it will help send more students to GTTI in order for them to have a better education and secure good jobs to enable them support their families.
HELPING, founded by British couple Chris and Margaret Meeks after they visited The Gambia on holiday in 1998, is based in Hertfordshire.
Revealing to The Point why they decided to choose Gambia, Margaret, recalled that with the help of Sarjor Sarr, a hotel worker, they were 'able to see more of The Gambia'.
Currently the Charity has two nurseries at Fass village, one at Chamen, one at Chessay Ma Jaw, one at Jinack island and another at Jenoi village respectively. Beside they are still 'helping the schools' over there, and do hope to 'refurbish Fass clinic' and help them 'finish the rooms they are building for Doctors and nurses'.
During the weekend, Margaret was so busy that this correspondent could not get hold of her but soon after he found out that she was really busy with her team raising money for The Gambian project.
She said: 'We are also sending out a land rover to be used for taking children and the people of Fass to hospital when needed and also to transport teacher from the UK to areas we are helping.'
Further explaining the reason why they choose Gambia, Margaret responded: 'I have always worked with children. So he (Sarjor) took us on the ferry and in a taxi to a village called Fass Njagga Choi. The school there had very little equipment not even a pencil each or a football. When we saw the children had so little we just had to try and help them.' 
However when they returned to the UK, Margaret explained: 'With friends and family we filled our cases and went back the next year…and with Sarjor's help, we took the cases of equipment to Fass School. It was in October and the grass roof of the classrooms were all damaged and the tin walls were all rusty so there and then we decided to try and raise money to build two classrooms.'
Eventually 'little by little' they raised the money to buy materials and now finally achieved their aim which was to complete the two classroom block.
Margaret also revealed to The Point that they also heard of a different school that needed help in Pakau Njogu and thus added it to their 'list of schools to help'.
However, she used the opportunity to commend Sarjor, by noting: 'I think here I must say that the charity would not have been in existence if Sarjor was not the most honest man I have ever met. He would take no money for his help and always said they were his people and he would do it from his heart'.
Margaret recalled the joyous day when the classrooms were opened and all the 'children and villagers lined the road and there was a big party' at the school.
She added that she and her husband knew 'we would not be able to just walk away and not go back again...so we decided to try and do the best we could for the school taking equipment, doing repairs to the school and sponsoring children that could not afford to go to school'.
Answering further, she added: 'As nursery children are what I know best as I have always worked with that age group, we decided to concentrate on building Nurseries and to find local teachers and send them to college…We now have six nurseries on the North Bank and employ 18 teachers also feeding the children in the nurseries that are not in school grounds'.
This correspondent was even more overwhelmed to learn that one of the nurseries was built with cash meant for the weeding of couple's daughter. 'We used the money our daughter and her husband had for their wedding for Osborne nursery at Fass village'.
The charity also has schools and nurseries twinned with schools in UK and also 'three scout groups' are twinned with groups in the UK.
Presently they have just finished building 'five rooms for volunteers from UK to go out and help where they are needed and share their knowledge and also learn from the teachers in the Gambian schools'.
The energetic Margaret disclosed: 'We might even have a doctor that would like to go out and help. We hope this could also make long-term friends for the schools and nurseries…We are hoping this will benefit the children a lot.'
Concerning difficulties, Margaret outlined: 'The ferries make life very difficult, when we were out there in August it took four hours to cross...sometimes we had to go via Farafenni... It is impossible to take tourist or sponsors to see our projects.'
She also added: 'It is sometimes difficult getting villagers to help with projects.'
However she quickly pointed: 'We are very lucky our team out there Sarjor, Karamo and Alhagie are all very good people and look after everything when we are not in The Gambia.'
She also noted that their Gambian team 'makes sure our 340 sponsored children are well and attending school; these children are sponsored by people all over the UK through our charity.
Finally, Margaret concluded: 'I thank all our children and grandchildren as well as our supporters as they all work so hard helping us raise money so we can help so many children have a better life…No UK helpers or family take money from the charity and when we are in the Gambia we pay all our own expenses; so every penny raised is used for the good of the children.'
On behalf of The Point newspaper, this correspondent wishes Margaret, her entire family, the Gambian team and supporters in the UK a merry Christmas.
Read Other Articles In Article (Archive)