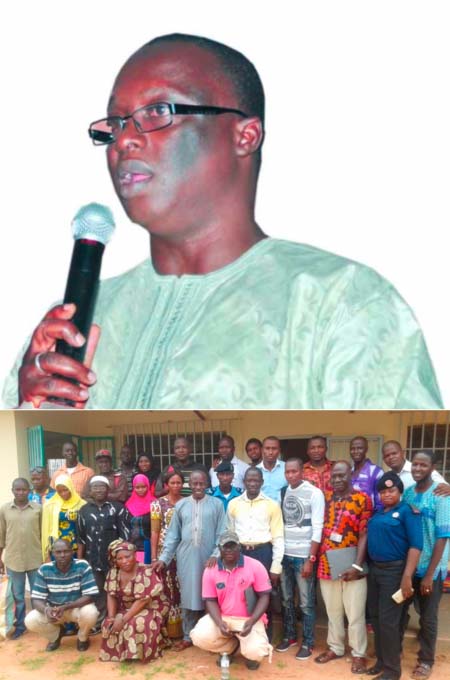 The Programme Manager for National Disease Control at the Ministry of Health and Social Welfare has called on the regional Rapid Response Team (RRT) to be vigilant and proactive in strengthening public awareness on Ebola and other public health diseases.

Sana Sambou was speaking at the end of a three-day capacity building exercise for the North Bank West Regional Rapid Response Team on Ebola and other public health emergencies, held in Essau in the North Bank Region.
He noted that RRT should promote networking and communication, as it enhances information-sharing.
Sambou used the moment to call on the regional team and health facilities to ensure proper management of supplies and equipment to enhance effective service delivery.
He said RRT should be mindful of risk and safety management during public health emergencies, adding that it would enhance service delivery.
Sutayring Drammeh, Regional Health Director for North Bank West Health Region, thanked the WHO for complementing the government efforts in strengthening the health surveillance system.
He said the establishment of a point of entry at Amdalali border post has contributed to strengthening health services, and enhances socio-economic development.
Momodou BK Ceesay, Regional Disaster Management Coordinator, delivered the vote of thanks. He said the training activity would contribute to reducing vulnerability and hazards.
He called on stakeholders to promote partnership and networking in accelerating the national response.
The training course centred on introduction to the comprehensive and integrated Ebola Viral Disease (EVD) concept, coordination mechanism for EVD preparedness and responsive activities, the basic facts, biology,current outbreak, social economic impacts and strategies to stop transmission.
It also covered epidemiological surveillance, case investigation and contact tracing among others, infection prevention and control measures using standard operating procedure, waste management and disposal, safe and dignified burial, logistics and safety.
Read Other Articles In Article (Archive)